In the Temple of Elephantine: bold in aesthetics and subject matter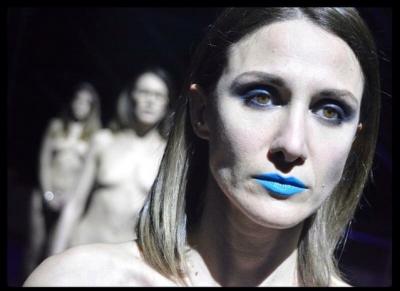 A scene from the production. Photo: Pino Le Pera
ROME - The show is fearless in its delivery and definitely worth seeing, despite occasional problems in its pace.
Presented by the Alda Fendi Foundation as part of the Lenten Experiments series, Raffaele Curi's In the Temple of Elephantine (Nel tempio di elefantina) is certainly a striking production. The title of the show alludes to an ancient temple situated on an island in the River Nile which is thought to have evinced polytheistic beliefs. Found on the island was a collection of documents, known today as the Elephantine Papyri, which are noteworthy due to the prominent role played by women in their texts. The director highlights the fact that these papyri, currently on display in the Brooklyn Museum, have never been shown in Italy.
Themes addressed include the pain of childbirth and slavery through beauty but, despite this, it does not seem that production aims to challenge the role of the woman as such; rather, it seeks to explore, to praise and to celebrate the mystery of femininity in a manner which is not merely thought-provoking, but tenacious and compelling. The director employs references to religion, history and film in order to draw parallels between the sexes and thus explore different ways in which women have been depicted over time.
The aspect of the production most deserving of criticism would have to be its pace, which at times felt languorous and caused the audience's attention to dwindle. This seemed most poignant at the very beginning of the show. Furthermore, the piece finished somewhat abruptly, to the point at which it was not clear whether it had indeed ended, leading to a moment of confusion before the final round of applause.
It would, however, be difficult to fault the production on an aesthetic level, given that both colour and lighting are employed faultlessly with no detail spared. Equally, the eclectic soundtrack is highly effective in that it keeps audience members alert, denying them the possibility of switching off and thus forcing them to think. The use of space in the studio has a similar effect, even if it does mean that the audience is required to stand throughout the show's hour-long duration.
The cast is primarily composed of young actors and actresses but the production also sees the return of Italian artist-actress Domiziana Giordano, who has starred in films directed by Godard, Tarkovsky and Bertolucci to name but a few.
In the Temple of Elephantine will be performed every evening at 9.30 until 2 April, in Theatre 8 of the city's De Paolis Studios, Via Tiburtina 521.
Artist-actress Domiziana Giordano with director Raffaele Curi