Sicily gives returning Goddess tumultuous welcome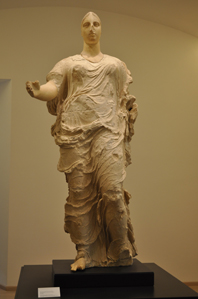 AIDONE, Sicily -- The inhabitants of this small and remote town in central Sicily packed the local archeological museum today to gaze at "their" statue, which until recently was a star exhibit of the Los Angeles Getty Museum — the Goddess of Morgantina.
The stunning 5th century BC artwork was at last displayed to the public  amid much fanfare and enthusiasm more than 30 years after it was looted from the nearby Morgantina archeological site following a decade-long campaign by Italy to retrieve antiquities that Rome says were illegally exported to the United States.
"She is so beautiful, one would need to look at it in silence to appreciate it," said one local lady, as the crowd of several hundred pressed and pushed for a glance at the imposing statue.
Stolen in the late 70s, the statue, usually identified as Aphrodite, was smuggled to Switzerland and England where the Getty Museum bought it for dlrs 18 million in 1988. The Getty has always denied knowingly buying illegally obtained objects, but agreed to return the statue and 39 other artifacts as part of an agreement signed with Italy in 2007.
 Aidone threw a real party for its cultural "star" with art exhibitions, concerts and fireworks. The inauguration was attended by the highest authorities including Italy's culture minister, Giancarlo Galan who came all the way from Rome to this town of 5,000 inhabitants nestling in Sicily's mountains, 100 miles southeast of Palermo.
"The return of the statue is a victory for legality," said Sicilian regional president Lombardo. He thanked the representatives of the Getty Museum present for their collaboration.
 However, the return of the statue means not just righting a wrong but it is seen also as an exceptional economic opportunity for the isolated and depressed town whose young people, unable to find work, have no choice but immigrate.
 The archeological collection of the Getty, of which the statue was a masterpiece, used to attract hundreds of thousands of people to Malibu. The Sicilian authorities hope to draw similar crowds in the Sicilian interior.  
  "The area is one of the most important Greco-Roman districts of the Mediterranean," says Sebastiano Missineo, Sicily's regional culture minister.
Only seven km (5 miles) away lies the Villa del Casale, a luxury Roman Villa, one of the most visited site in Sicily. Its 4,000 square metres of mosaics shine in a new light as they have just undergone a major restoration. And nestling next to Aidone are the remains of Morgantina, one of the richest ancient Greek settlements.  
The Villa del Casale draws about 400,000 visitors every year.  Authorities hope visitors will push a little further to Aidone and Morgantina and spend an entire day visiting the area and stop for a night as well. They will invest as much as 8 million eurors, mainly from EU funds, for restoration work in Morgantina, Villa del Casale, Aidone and on the Enna medieval castle and for a promotion campaign.
In Aidone, the museum, hosted in a former Capuchin convent, has been revamped to welcome the statue. Its exhibition space has doubled with four new rooms. The statue has her own room, the highest one, where her 2 meters 20 can be fully enjoyed.
The museum has other important treasures. Recently, it retrieved other artifacts looted from Morgantina — two archaic acroliths, statues with wooden trunks and stone heads, representing the goddesses Demeter and Persephone, returned by the university of Virginia, and sixteen Hellenistic silver-gilt objects returned by the New York Metropolitan Museum.
Aidone hasn't got the infrastructure to cope properly with vast flows of tourists yet, but B&Bs and souvenir shops have started to mushroom. "Everybody is working, at least ten new businesses opened recently," says Filippo Gangi, the city mayor.
In Aidone people are hopeful. "I am sure the  lovers of Greek and Roman art will come, but we need to be creative as well and open activities, in the craft sector for example," said a young lady. "I am planning to open a delicacy shop, this is my dream," said another one.
However much work remains to be done, local people say. Many have voiced concern about the parlous state of the roads to access Aidone which is in a mountainous area, 30 kilometers away from the motorway Palermo- Catania.  In particular, the 7 kilometer narrow road between Aidone and Piazza Armerina, town of access to the Villa Romana, badly needs repairing.
Italy's culture Minister added to the criticism last April, when he declared that the statue should not be displayed in Aidone because the place is inadequate and difficult     to reach. But today, he had forgotten his initial perplexity. "Now it is up to the Sicilians to do the promotion work, there is a lot to do, but the area is favorable," he said referring to the proximity of Villa del Casale.
In Aidone, signs are positive. "In April, we had about 3,200 visitors, double compared to last year, and the statue wasn't even displayed yet," explains Enrico Caruso, the   director of Morgantina's Archeological Park.
Aidone considers itself lucky to be in the spotlight. There are many sites left abandoned or with little care in Sicily. The island is virtually an open-air museum with at least 60 accessible archeological sites, but at times of shrinking budgets, it struggles, and often fails, to turn them into tourist attractions and more worryingly to protect them from deterioration.
"Sicily has a third of Italy's archeological heritage, but it isn't taken care of properly. There is a long list of endangered sites," said Gianfranco Zanna, of Legambiente, an environmental and cultural advocacy group.
The other threat is illegal excavations, still endemic in Sicily. Last year alone, about 2,500 archeological artifacts were recovered by the Sicilian art squad police.
Some of Aidone's artifacts may be shipped away again soon, but not by criminals hoping to sell them to unscrupulous collectors. They will be borrowed by the Getty for an upcoming exhibition on Sicily, as part of a partnership between the Museum and Sicily's heritage minister.
There are no plans, yet for the hallowed Goddess to travel anywhere else soon. However the culture minister believes that during low tourism periods the Goddess could be loaned to foreign museums, for a suitable royalty, of course, officials say.
— — — — — —
The archeological museum of Aidone and the Morgantina archeological park are open every day from 9 am to 7 pm.
Ticket for the museum: 6 euros
Ticket for the archeological park: 6 euros
Combined ticket: 10 euros
It will be possible to acquire tickets online soon. www.deadimorgantina.it
Aidone's Piazza Umberto square