Insider View: Fatal blow to Renzi's Italy?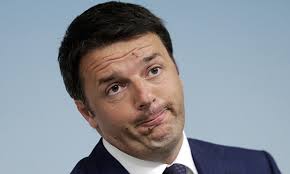 ROME – Scores of arrests, a former city mayor mired in controversy and a horde of promises from the government for transparency and honesty.
 The "Mafia Capitale" case has dominated headlines, and will probably to continue to do so for some time as the true extent of corruption across Rome comes to light slowly and painfully in the courts. 
 This is big news. And yet the public mood seems to be at best jaded and at worst disinterested. Whomever you speak to, the collective Italian populace seem to shrug their shoulders, roll their eyes to the ceiling and say dismissively, "Eh in Italia si fa sempre così,"or, in other words, we've seen this all before.
 Is this truly the standard that Italians expect from their public officials? Or is this despondency a more recent symptom of the endemic economic stagnation which the country seems incapable of escaping?
 It is a refrain which has been omnipresent in the media under Prime Minister Matteo Renzi's government -- Italy needs simply to believe in itself once more, to have confidence, in order to regain its rightful position on the global stage.
 In the precarious game of politics, timing is everything. The slew of damning headlines spawned by the Mafia Capitale scandal must have Renzi pacing the halls of Palazzo Chigi cursing his luck.
 It is difficult to imagine a worse time for the exposure of a huge criminal network extorting money from the public purse in the capital. With the hugely controversial Jobs Act sitting precariously on the verge of being implemented, and the launch of a bid for the Olympic Games 2024, the case has dragged the public dialogue back onto the same old tired lines of corruption and inefficiency.
 The question now is whether Renzi will be able to garner enough support despite the scandal to put more of his ambitious rhetoric into action. Unemployment, particularly amongst the young, continues to be the single biggest barrier to growth, and how this problem is tackled will inevitably define the Prime Minister's political career.
 Renzi's position within parliament is certainly not as strong as he would like it to be, and he can ill-afford the accusations being lobbed at his Democratic Party by the radical opposition in the wake of the mafia scandal. "When I come in here I see the mafia with my own eyes, every day," yelled Five Stars Movement member Giuseppe Brescia in the Chamber of Deputies.
 In the coming weeks the election of a new President of the Republic will test the mettle of the political establishment. Perhaps only then will it become apparent if, as the Mafia Capitale scandal suggests, Italy is condemned to repeat its mistakes. Or whether it could be a mere minor blip on a road to recovery and the ever-elusive transparency?