Flood crisis spreads to Emiglia Romagna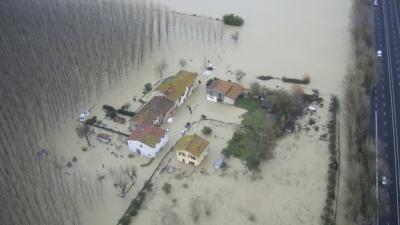 ROME - The Emiglia Romagna civil protection agency has warned that severe overflowing from the water basins of several large rivers is likely. 
 The rivers that are of concern - the Ram, Bidente, the Rabbi and the Ronco, could cause potential flooding in twenty municipalities in the provinces of Ravenna and Forlì-Cesena - said the warning.
 The Civil Protection agency stated that "flooding of areas adjacent to waterways with potential involvement of homes, yards and businesses" is likely.
 Some rivers had previously exceeded danger levels due to heavy rainfall in the past few days and have already caused significant flooding. Fire and Civil Protection services monitored all critical flood points, especially bridges, in order to take prompt action when necessary. 
 The situation on Tuesday morning is giving authorities few reasons for optimism. Despite river levels beginning to lower, several flood zones where exacerbated by the heavy rains on Monday night which caused severe damage to roads, bridges and property in several rural areas and some towns including Larderello, Ponteginori and Pomarance.
 The flooding also caused landslides in Camaiore and in Versilia. The debris from the landslides has made travel in the regions extremely difficult for both citizens and aid workers, having blocked off many residential access roads. Spokesman for the regional firefighters and workers of the Civil Protection agency have stated that most roads have been cleared, and all roads should be cleared by 3.00pm Tuesday.
 For Lombardy, which has born the brunt of the flooding, Tuesday's sunshine and lowering water levels has residents optimistic that life will soon return to normal. The falling water levels and sunny skies are allowing many cities near bodies of water to breathe a sigh of relief, such as the towns surrounding Lake Maggiore and the river Po.
 In Milan, after days of flooding and cleaning and remediation of damaged facilities, including several subway stations, the change of weather is giving public workers a much sought after chance to repair the city's damaged infrastructure.
 Despite the change in weather, the continued likelihood of mudslides remains, while damaged roads, railways and downed trees make travel extremely inconvenient in many afflicted regions.
 The immense damage that has been done to Northern Italy by flooding has largely been blamed as a result of poor city planning, building techniques and zoning laws. Many Italians say that this is due to poor land use, a slow bureaucracy that makes properly building under the law impractically slow, and poor zoning practices.
 "Renzi is right when it comes to bad land use over the past twenty years by the regions, not all regions, however, are the same."  Say's Governor of Fruili Debora Serracchiani. "In Friuli Venezia Giulia the numbers tell us that the territory was respected."
 in the last thirteen years 890 million Euros have been invested into rebuilding existing infrastructure in the North in a way that it can withstand natural disaster, but many are skeptical as to how effectively that money has been spent.
 Governor Serracchiani says that her region should serve as a model for other regions in terms of preparation for floods and natural disaster. "With the rains in November, in different regions of the North fell 500 mm of water and there was no damage in Liguria and Piedmont, a billion each, in the Veneto region of half a billion. Since 600 mm with peaks of 1300, the damage of 50 million. They have been affected 120 municipalities Friuli on 217, more than half. In the province of Udine we counted 18 landslides. These results are the fruit of our prevention, we are a model region " 
 She went on to say that "The civil defense was born here and for us it is a value. In Friuli, there are 1,800 volunteers. The community and the presidents who have gradually worked really represented against the hydrogeological. Elsewhere preferred to fill the holes, works that you see. We have rebuilt the levees, works that are not seen. For the past 25 years, we have opened and closed 4,402 yards for action on landslides or preventing instability, only in the last thirteen have invested 890 million."
 Despite the success of the Piedmont region, many other regions remain devastated and in need a quick and decisive intervention in order to return to productivity. The pace of recovery is largely dependent on a cease in rainfall, which is expected to subside with minor rainfalls continuing in brief spurts.