Italian warplanes "forbidden to bomb" Isis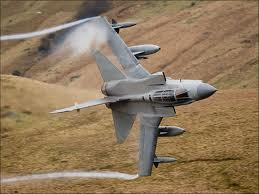 ROME -Italy is sending Tornado jet fighters to join forces fighting ISIS but Defence Minister Roberta Pinotti says the warplanes are "forbidden from bombing," defence ministry sources say.
 Pinotti set off a storm among opposition MPs when she disclosed in an interview with la Stampa newspaper the plan to send four Tornados to Kuwait for "advanced reconnaissance" duties in Iraq and Syria together with 100 Italian Air Force personnel. "Pinotti is dragging us into war," said the opposition M5S party.
 Last month Pinotti told parliament that 280 military training personnel were being sent to the Gulf to work with Kurdish forces, along with two unarmed Predator drones while a consignment of light weapons and anti-tank guns was sent to Kurdish Peshmagar guerrillas fighting Isis.
 However Nicola Latorre, president of the Defence Commission in the Senate, denied that there was creeping involvement in the conflict without parliametarym authorisation. "The accusation comes from people who want dialogue with Isis," said Latorre, a member of Prime Minister Matteo Renzi's Democratic Party.
 Italian Chief of Staff for Defence Admiral Luigi Binelli Mantelli told Il Sole 24 Ore newspaper that the recent NATO summit at Newport assigned Italy duties of guard and reconnaissance that are "very delicate in this phase, because the Isis army has learned increasingly how to hide men and vehicles in hospitals, schools and mosques.
 Defence sources acknowledged however that Italian Tornadoes flying recognition flights will have the right to defend themselves if attacked.
 The dispatch of the Tornados is seen in Allied military circles as a response to criticism of Rome for increasingly dragging its feet over contributing to the battle against the Isis militant forces