Colosseum scaled amidst national protests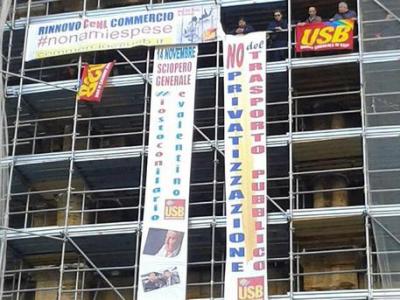 Protestors scale the Colosseum
ROME – Clashes between police and protestors in Padua and Milan have coincided with major public transport closures in Friday's nationwide, so called "social", strike.
 Thousands took to the streets across 25 towns and cities. Protestors were an amalgamation of different groups including steelworkers, students and public transport workers.
 A group of ten private sector workers scaled scaffolding on the Colosseum to hang banners reading "No to the Jobs Act" and "No to the privatisation of public transport."
 A large Milan rally staged by the powerful CGIL labour union, in conjunction with their metalworker's subsidiary FIOM, degenerated into violence when student protestors attempted to break a police cordon. Police fired teargas and the students responded by throwing bottles and flares.
 Meanwhile in Padua several police officers were injured whilst attempting to control a student rally where protestors deviated from the agreed march route to target local Democratic Party offices, the party of Prime Minister Matteo Renzi.
 In Naples protestors blocked traffic on the city ring road. Whilst in Turin an estimated 1000 protestors marched and a minority set off flares and smoke bombs.
 Transport services in Rome should have returned to normal services at 14.00 after a planned four-hour strike on all bus, tram and metro lines. A total of 22 flights were cancelled at Fiumicino airport.  
 The feud between Renzi and union chiefs has been long, protracted and well publicised. The Prime Minister has so far shown no sign of budging in his controversial labour market reforms and budget cuts, despite the multiple strikes and demonstrations in recent weeks.
The blocked Naples ringroad