Porta Pia damaged by storms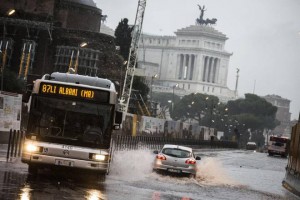 ROME – Thursday's storms have left Rome in disarray with a possible tornado on the way in Sicily.
 In the capital, a woman was taken to hospital after having been hit by a falling tree in Piazza dell'Alberone, in the Appia area of the city. The tree also damaged several parked cars.
 The iconic Porta Pia, designed by Michelangelo, has also suffered from the bad weather, with some walls partially collapsing.
 Thunderstorms lasted for several hours in Rome on Thursday night with some spells of heavy hailstones amongst the rain.
 Large areas of the Via Appia Antica were closed between Porta San Sebastiano and Via Ardeatina after the Almone river burst its banks.
 Many schools in central and southern Italy remained closed on Friday and traffic was majorly disrupted. The bad weather is expected to abate in the South within the next 24 hours however conditions in the North-West are expected to worsen again on Sunday.
 Sicily could be hit by a tornado more typical of a tropical climate late on Friday or early Saturday. High winds in Naples have toppled trees and bent traffic light posts.