Hindi adaptation of Hamlet hits right notes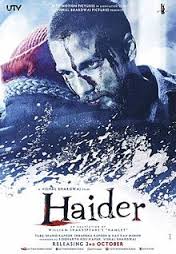 ROME-Haider, Vishal Bhardwaj's Hamlet adaptation, combines seamlessly modern political strife with a timeless story and Bollywood's legendary musical sequences.
 The result is a film which, despite the somber subject matter, is quite enjoyable to watch. The film premiered in Italy at the 12th edition of the Rome International Film Festival. It went on to win the Viewer's Choice Award in the World Category, the first Indian film to do so, and it is easy to see why.
 Set in the northern Indian region of Kashmir during the conflicts of 1995, Haider, played by Shahid Kapoor, returns home from college to discover that his father was arrested and has since disappeared. Pro-Pakistan militancy is at a high and the Indian army has responded with increased raids and arrests.
 Kapoor delivers a fine, though not ground-breaking, performance. His best moments are during Haider's descent into madness, most notably during his monologue in the town square. With a noose around his neck and a stereo on his hip, he convincingly portrays a man in a weakened mental state; his seemingly nonsensical speech, which draws on the "To be or not to be" monologue, progresses into a biting commentary on the Indian military's use of deadly force for the purpose of maintaining order.
 With the exception of Shraddha Kapoor's lackluster performance as Arshia, Haider's love interest, the ensemble cast is strong in their supporting roles. Irrfan Khan's Roohdar was a fan favorite, thanks in part to his action movie-esque theme song. In a wonderful modernization of Shakespeare's famous ghost sequence, Roohdar, cloaked in white with dark sunglasses and a limp, is the former cellmate of Haider's father who delivers the call for Haider to avenge his father's death by killing his uncle and mother. 
 The real standout of the film is Tabu as Ghazala, Haider's mother. Bhardwaj makes the mother-son relationship, which borders on incestuous as times, the centerpiece of the film. Tabu perfectly encapsulates the complexity and contradictions of Ghazala, who is a loving mother at one moment and manipulates her son in the next. Bhardwaj's interpretation of Hamlet is also refreshingly new. Rather than being indecisive, Hamlet, armed with the identity of his father's murderer, hides a gun behind the toilet (in a tip of the hat to The Godfather) and begins to plot his revenge against his uncle, Khurram.
 Bhardwaj's adaptation features gorgeous cinematography and excellently captures the heaviness of the story and time period with its gray winter setting. Despite the somber tone, a number of songs are well-integrated into the storyline. The dance sequence following the wedding of Ghazala to Khurram, includes sweeping views of ancient ruins, larger-than-life puppets, and an aggressive leap-filled traditional Kashmiri dance accompanied by thunderous drumming.
 In short, Haider provides a fresh take on Shakespeare's classic play with strong performances from its cast. Bhardwaj's adaptation is culturally-specific yet universal in its message of revenge and redemption.