Tensions high as Renzi defies unions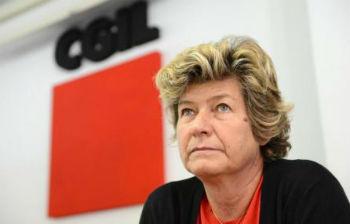 CGIL leader Susanna Camusso
ROME - Debate continues between Renzi's government and CGIL –Italy's largest Labour Union- after Tuesday's meeting on the controversial Jobs Act.
 During the meeting between Ministers Poletti, Padoan, Madia and members of unions CGIL, CISL and UIL, concerns were raised over the future of the unsolvable labour laws.
 Susanna Camusso and other representatives of the labour unions expressed their disappointment that the meeting with Renzi's government was so unsatisfying and inadequate.
 "It is surreal what happened yesterday" said Camusso in an interview to Repubblica. "It is surreal because we expected to discuss the Stability bill but instead ministers Padoan, Poletti and Madia did not discuss anything with us. They were not even able to adequately reply to our objections regarding several job issues."
"We haven't come to any conclusion" labour unionists admitted.
 Later on, Renzi, in an interview with La7, promptly replied to these accusations, saying, "it is surreal that Camusso expects the government to make compromises with labour unions.
 "There will be no more negotiations with the unions. What we are trying to do is a 'cultural revolution' not a counter move in order to destabilize Italian jobs" an exasperated Renzi said.
 This political tug of war between Prime Minister Renzi and Camusso seems as though it will not end until one of the sides relents.
 But as CISL general secretariat Anna Maria Furlan stated in a note, "CGIL must carry on its own way, as we are not sure that a general strike is the answer to the problems". Indicating that CGIL could possibly conduct a general strike alone, irreparably changing the destiny of the debate.
 Meanwhile, trade unions are planning protests of pensioners and PA workers for Nov.5 and 8, CGIL is hoping that the disagreements within the Democratic Party will worsen, forcing the Prime Minister to adopt changes to the Job Act reforms.
 However, given the situation, Renzi no longer seems to care about the escalation of the clash with labour unions. He has realized that, in order to be different from his predecessors, he must not compromise because it will be seen as a sign of weakness amongst moderate and right centre voters.
 Perhaps, his plans regarding the Jobs Act, article 18 and the Stability bill might also be a strategic move to spread his consensus and to proclaim the beginning of a different left wing movement. Perhaps, it is an act of resistance against labour unions, just to remind them that their sphere of influence is not the same anymore.