Judge quits after Berlusconi acquittal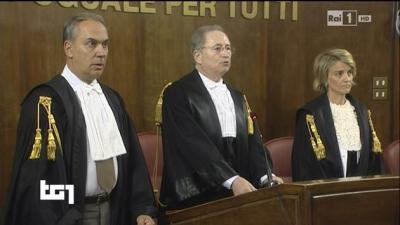 Tranfa, centre, with the other judges on Berlusconi's case
MILAN – Judge Enrico Tranfa confirmed his resignation Friday, following Berlusconi "Ruby" case; but refuses to confirm he opposed the not-guilty verdict.
 On Thursday Tranfa, head of the Court of Appeals, signed an official document explaining the verdict delivered by himself and two other judges to overturn Berlusconi's previous convictions.
 The document states that although Berlusconi did have sexual relations with the 17-year-old call girl, there was no evidence to prove that was aware of "Ruby's" age and he was consequently not guilty.  The Appeal Court also found that Berlusconi in fact did not abuse his position to try to effect "Ruby's", real name Karima El-Marough, release.
 In his initial trial the former Prime Minister was sentenced to a six year prison term for the misuse of office charge, on claims that he told police that "Ruby" was the niece of former Egyptian president Hosni Mubarak.
 Meanwhile 70-year-old Tranfa's retirement comes just 15 months before he was due to retire on a full pension, after 39 years of service. He refused to address rumours that he opposed the decision made by the court, but was overruled by his colleagues.
 He said in a statement on Friday, "I've handed in my resignation, that's it. Everyone can think what they want."