Chinese Premier visits Italy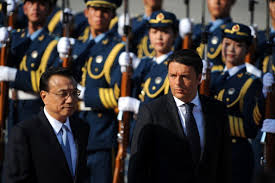 Renzi and Keqiang in Beijing last year
ROME – Chinese Prime Minister Li Keqiang was in Rome on Tuesday on a diplomatic trip marking closer diplomatic relations between China and Italy.
Keqiang's programme of events was due to begin on Tuesday evening with a meeting with Italian Premier Matteo Renzi at Palazzo Chigi, following this private meeting they will attend a ceremony at Palazzo Barberini to sign agreements between the two nations.
On Wednesday Mr Keqiang was due to travel to Milan for the ASEM (Asia-Europe Meeting).
In a statement released on Monday Keqiang said "I'm happy to be visiting a beautiful country like Italy and to participate this Autumn in the tenth ASEM summit. I hope that the visit can contribute to amplifying and deepening the effective cooperation in various fields between China and Italy, and that it will open a new chapter of friendship and collaboration between our two countries."
Keqiang went on to recall the historic links of trade between Italy and China as opposite ends of the Silk Road and also praised the economic reforms of Renzi's government, noting that "the Italian economy is rapidly recovering, showing vigour and vitality."
Increasing Chinese investments in Italian infrastructure in recent years has been a cause for concern. Read more here. 
Mr Keqiang was due to arrive in Italy on Tuesday after a brief stop during the morning in Moscow where he met with Russian President Vladimir Putin.