Pope marries 20 couples at Saint Peter's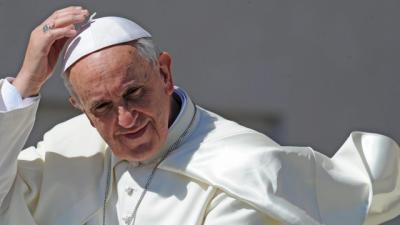 VATICAN – On Sunday Pope Francis officiated at the marriages of twenty couples in Saint Peter's Basilica, some of whom already cohabit or have children. 
The couples all belonged to the Diocese of Rome, and were accompanied by their friends, family, and in some cases children at the ceremony which took place at 9am. Presiding over proceedings alongside the pontiff was Cardinal Agostino Vallini, deputy director of the centre of pastoral care for families in the diocese.
The pope used the occasion to comment on the sanctity of marriage, saying, "Marriage is not a smooth path, without conflict, no, that would not be human.  It's a demanding journey, sometimes difficult, and sometimes there is conflict, but that is life!"
"Jesus' love, which has blessed and consecrated these couples' unions, is capable of maintaining their love, and renewing it when, as humans, we lose it, we run out."
"The love of Christ can restore to couples the joy of walking together, because that is marriage, to journey together as one man and one woman, where the man has the task of helping his wife to be a better woman, and the woman has the task of helping her husband to be a better man."
Ending the ceremony, he added: "I wish to you all a beautiful journey, a fruitful journey. I wish that your love will grow. I wish you happiness: you will have your crosses to bear, but the Lord is always there to help us carry on. God bless you."