CineCitta' World: Oscar standard entertainment?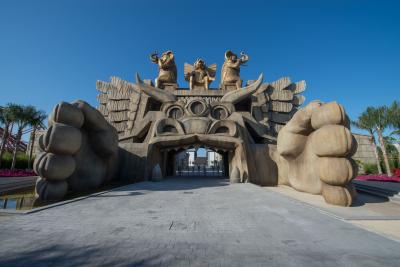 The hands of Cabiria: The entrance to CCW. Photo Credit: Riccardi Paolini Agrpress
CASTEL ROMANO- Italy's first cinematic theme park, CineCitta' World, opens this month with Academy Award winners Dante Ferretti and Ennio Morricone insisting it is not another Disneyland.
 Cine Citta' World, or CCW as it is abbreviated, offers a unique fusion of cinema and thrill rides, and journalists had an opportunity to preview the park as part of a press conference on Thursday. Luigi Abete, President of IEG Italian Entertainment Group SpA; Emmanuel Gout, President Cinecitta' Parhchi SpA; and Riccardo Capo, Direttor Generale CInecitta' Parchi SpA were all in attendance.
 The attraction is situated in Castel Romano, about an hour's drive from the centre of Rome. Despite perhaps seeming a little far out, officials at CCW were keen to highlight what they say is the convenience of this location: midway between the seaside and the city centre, near to both Rome airports, and accessible via four different main roads, the emphasis is clearly on making this attraction reachable, almost to the point of being unavoidable.
 Advertised as having "one of the longest opening season's in Europe", the hope is that this 250 million euro investment will be a must-see attraction with local and international tourists alike, with expected visitor figures predicted at 1,500,000 for 2015, and an estimated turnover of 55 million euros.
 When approached with the idea for a Cinematic Theme Park, Sig. Ferretti said in the Press Release that he was eager to "show young people and children in particular how films are constructed and put together… via the medium of entertainment." Now, three years after construction work began, CCW will open to the public on July 24.
 CCW certainly has an air of Disney World about it, particularly reminiscent of 'Hollywood Studios.' It is impressive right from the entry gateway, a giant statue of Cabiria welcoming you between his sculpted hands. Beyond the turnstiles, visitors find themselves on the 1920s New York inspired 'Main Street', lined with authentic shops selling a range of merchandise, including the first 'M&M's Corner' in Italy. The 'Barber Shop' also offers visitors the chance to "transform themselves" into various different guises, and become movie stars in their own right.
 Speaking at the press conference, Sig. Abete was keen to distance the park from Disney, however, indicating that although this and many other parks in Europe and America had influenced them, CCW is an entirely different attraction which focuses on "Cinema" and "the world of illusions."
  Sig. Abete stressed that the key words at CCW are "entertainment" and "enjoyment", made possible thanks to a wide range of indoor and outdoor attractions. The park is organised into eight different 'sets', different areas of the park each with a different theme, including the 'Sognolabio', an area especially for children.
 Amongst the principal attractions is 'Erawan', evocative of 1950s adventure films and the 'Tomb Raider' video games. Surrounded by tropical plants, a huge statue of the Elephant God, Erawan, has a 'drop tower' on its back, which takes guests up to a height of 60m before abruptly dropping them back down at speed. Some seats also have a 'tilt' facility, allowing guests to enhance the adrenaline-inducing experience even more.
 Other bound-to-be-popular attractions include 'Aktium', an authentic Ancient Rome inspired water ride (beware of the splash zone) and 'Altair', a roller-coaster with a 360 degree loop, and cork-screw turns, which reaches top speeds of 100km/h.
 When in need of refuelling and a sit down, CCW offers four restaurants in addition to various food stands dotted around the park. 'Apicius', an Ancient-Rome themed restaurant shaped like a temple, offers shady outdoor and plentiful indoor seating. A self-service buffet proposing typical Italian cuisine is a welcome sight, especially when compared to the omnipresent fast-food outlets found at Disney. If this isn't your thing, however, there are other restaurants offering pizzas, coffee breaks and light snacks.
 As well as rides, the park has four theatre's, and a permanent show, 'Enigma', a live-performance show where special effects abound, and which seems to focus on illusions and trickery. In collaboration with some of the people who have worked on Olympic Opening Ceremonies in the past, it is sure to be breath-taking, and not to be missed, especially if the trailer is anything to go by.
 Sig. Abete was also keen to highlight the notion of "sustainability." Walking around, you are never too far from coloured, pipe-shaped recycling bins, but the "many green spaces" and benches intended to permit flagging adults to have time to "relax" did not seem quite so prolific however; if you go to CCW, be prepared for an energetic day.
 Entrance is priced at 29 euros for adults, and 23 euros for concessions, with family packages and season-tickets available. Despite featuring less rides than one might expect from a theme park, it is important to remember that CCW is primarily about Cinema, and although the shows and cinematic attractions were not available for viewing at the press conference on Thursday, they are sure to be very intriguing.
 Boasting eight cinema sets, 20 attractions, four theatre's worth of shows and four restaurants, there is bound to be something for everyone at CCW. With both indoor and outdoor attractions, it is sure to be worth a visit this summer, if only to benefit from the refreshing water-ride, guaranteed to cool you down (and soak you right through).
For more details, go to http://www.cinecittaworld.it/
One of the park's attractions, 'Erawan.' Photo Credit: Hannah Smith
Emmanuel Gout, President Cinecitta' Parhchi SpA. Photo Credit: Eric Vandeville