Prandelli quits over World Cup debacle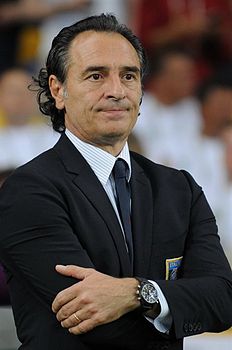 ROME-After the Azzurri's early knockout in the World Cup due to the humiliating 1-0 defeat to rivals Uruguay, Coach Cesare Prandelli announced his resignation during post-match conference.
 Italy grounded to a halt on Tuesday evening as millions of fans gathered around TV sets and huge public screens to watch Italy's last group match against the Latin American side that would determine a place in the final 16.
 The Azzurri side were left with only ten players after Claudio Marchisio was awarded a red card after 'putting his studs into the leg of Egidio Arevalo Rios'. Minutes after the incident Uruguay scored the only goal of the match which resulted in a subsequent 1-0 loss for Italy and elimination from the competition.
 After Italy's painful defeat Coach Prandelli said he was quitting despite extending his contract until 2016 just a few months ago; "I'm the man in charge of the technical project and I told Italian Soccer Federation President (Giancarlo) Abete that I've resigned."
 "I've been attacked like a political party since I signed the renewal. I haven't stolen taxpayers money and I have never stolen," said Prandelli.
 Mr Abete said that he hoped Prandelli would take back the resignation, however the Italian coach has stressed that his decision was "irrevocable". Mr Abete said that the executive of the Soccer Federation will decide as to whether they will accept Prandelli's early resignation.
 The Italian coach took charge after Italy's dreadful performance in the 2010 South African World Cup, which also saw them eliminated in the early group stages. Prandelli revitalized the Italian squad and led them to the 2012 Euro final against Spain earning them second place.
 Meanwhile Italian fans are heartbroken over Italy's defeat. Gabriele Mangini, a 23-year-old university student shared his opinions about the game; "I'm devastated, above all because we didn't play like we all know we can. At the absolute bare minimum this team deserved to get through to the quarterfinals."
 Italy's leading sport's magazine, La Gazzetta dello Sport, launched a poll immediately after the end of the match asking readers to apportion blame for Italy's loss. Just after two hours Prandelli was in the lead with 42 percent of the vote, followed by the team with 30 percent, the referee with 14 percent, Balotelli with 11 percent and the heat and bad luck with 3 percent.
 It was the Italian team's second defeat by a Latin American side after its debacle against Costa Rica. Italy thus became the third major European side after Spain and England to be eliminated from the contest.