Super Mario urges on the azzurri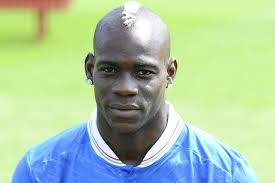 ROME - Bad boy Mario Balotelli urges italians to support their second match against Costa Rica this afternoon; "Today is another big day. Together we will strive to succeed in this competition."
After Italy's convincing 2-1 victory over England watched by millions, Cesare Prandelli, the Italian national coach, is now focusing on today's challenge against Costa Rica.
 Italy's win over England last Saturday means that if the Azzurri side can secure another three points against tonight's opposition, they are certain to reach the next stage of the World Cup competition. As things currently stand in group D, Italy and Costa Rica remain level with three points each, whilst England and Uruguay are tied with zero.
 Gianluigi Buffon, Italy's number one ranked goalkeeper is to make his first appearance despite Salvatore Sirigu's performance in the first round match that denied England several scoring opportunities.
 Coach Prandelli will also be looking to try out some more tactical strategies against the strong Costa Rican side. Despite a solid performance from De Rossi in the defensive half against England, it is clear that some improvements still need to be made at the back after a few too many last stitch tackles.
 However, despite first match nerves and the intense heat and humidity of Manaus-a city in the middle of the Amazon rainforest-Italy came out on top.
 The Italian side proved not only to be more fashionable than the English, who arrived in Brazil wearing light grey Marks and Spencer suits in comparison to the Italians' navy blue tailored Dolce & Gabbana three piece, but also far more assertive on the football pitch as they gave a solid performance throughout.
 Coach Prandelli's decision to play with five midfielders and a lone striker proved to be a smart one against England's 4-2-3-1 formation. Claudio Marchisio and Antonio Candreva played particularly well in the match not to mention Andrea Pirlo's flawless performance in his traditional role of 'playmaker.'
 The Azzurri coach praises Italy's performance; "It was an epic match. We'll remember it for a long time. England are one of the best national teams at this tournament. We played well. It was a hard-fought victory but we maintained supremacy in midfield. We worked well (on fitness preparation) at our pre-tournament training camp and you could see the results. They had cramps in the second half (and we didn't), which means our work paid off."