Italian and American teams play polo for a smile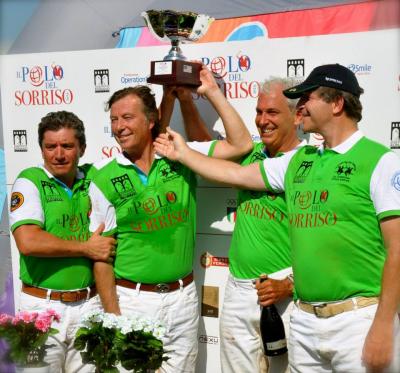 ROME - Italian and American polo teams took to the pitch for Operation Smile Italia Onlus at the second annual charity event "Polo for a Smile," which welcomed more than 400 guests. The entire sum raised was donated to Smile House charity in Milan to cure children around the globe affected by cleft lip, cleft palate and other facial deformities.
 Organized by Flaminia and Marco Elser, the event took place at the Acquedotto Romano Polo Club where in a huge open space guests could taste products on display at sponsors' stands. Among the honored guests was the American ambassador to Italy, John R. Phillips, and his wife Linda Douglass, who enthusiastically supported the American Polo team.
 The teams were welcomed by guests passionate of the sport. The American team, which included Bruce Colley, Teo Calle, Don Langlous, Marco and Massimo Elser, won 6 to 4 against Italian Team with Salvatore Ferragamo, Luca D'Orazio, Nico Piccolo, and Gregorio Salvio. Before the game four parachutists jumped off a plane carrying Italian and U.S. flags. The Lanciers of Montebello performed with a local band that played the American and Italian national anthems.
 Other honorable guests included General Director of Operation Italia Onlus Alessandra Corrias, Mayor of Monte Compatri Marco De Carolis, and Princesses Claudia Ruspoli, Gaea Pallavicini, Elettra Marconi and Johnine Colonna. The event concluded with a delicious cake donated by Patrizia Laurati of Luxury Cake Design, one of the sponsors, and a raffle with prizes, such as clothes and weekend trips.
 The organizers are optimistic about this year's donations: at the event last year 36,000 euros were collected, allowing many children to be cured.