Controversy over Trevi Fountain restoration work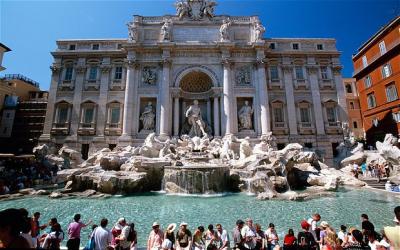 ROME-Concern is mounting over the restoration that has begun on one of the Eternal City's most popular tourist attractions as part of fashion house Fendi initiative.
 The 18th century Baroque masterpiece that is the Trevi Fountain will undergo restoration work for about a year and a half.
 Despite Mayor of Rome Ignazio Marino claiming that "the restoration should not be a hardship for tourists, citizens or traders, but that is an opportunity to learn and participate in an amazing initiative", many are worried that the closing of the Trevi Fountain will affect business and ask that the initiative is postponed until next year.
 "Surely tourists will no longer stop to get ice cream, pizza or coffee. Things are already going badly with the crisis. It is certainly not the time to be carrying out work," said a local businessman.
 Many people are satisfied with the state of the Trevi Fountain and claim that it does not require work for such a long period of time. With the Fontana della Barcaccia in Piazza di Spagna and the Colosseum also undergoing restoration work, it seems Rome will have almost all their main attractions sealed off to the public.    
 The process began Thursday morning with the cleaning and collection of coins. Metal fencing will be placed around the fountain, with a central pathway allowing visitors to still admire the masterpiece and catch a glimpse of the work that is taking place. Despite the restoration work however, it has been stressed that tourists will still be able to enjoy the monument by being able to cast a wish and throw a coin into the fountain.
 Mr Marino also showed his appreciation to Fendi for financing the project; "Thanks to one of the most famous fashion houses of our country we can finally start the restoration process. Enhancing the value of our assets ensures that our history, our monuments, the great beauty can continue to be an incredible and extraordinary legacy for future generations."
 This initiative is similar to work on the Colosseum and the Spanish steps, financed by Tod's entrepreneur Diego Della Valle's and the jeweler Bulgari, respectively.