Grillo, Farage mull Eurosceptic alliance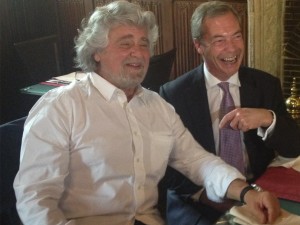 BRUSSELS-After meeting in the Belgian capital, leader of Italy's 5 Star Movement Beppe Grillo and UKIP's Nigel Farage have agreed to begin discussions to form a new group in the EU  parliament, political sources said Thursday.  
 During an "animated and friendly lunch" in a restaurant in the centre of Brussels Wednesday, the two Eurosceptics met for the first time to talk about a potential alliance, whose main shared objective would be to "strike fear into the bureaucrats in Brussels," with each of the movements retaining complete autonomy of the vote.
 "We are rebels with a cause," Mr Grillo told the UKIP leader on Wednesday. "We fight with a smile."
 After a less than satisfactory result in the EU Parliament election last weekend, joining forces with other parties in a EU parliamentary group is seen as the only way for the 5 Star Movement to make their voice heard on the European forum. And despite his reassurances that "a victory of the 5 Star Movement is just a question of time," the Italian anti-establishment leader was not going to hold back and wait until his moment arrived.
 "If it works, it would be wonderful to see the ranks of citizens grow on our side," said Mr Farage after Wednesday's meeting. While Mr Grillo's 5 Star Movement came in second in Italy last Sunday, the UKIP scored a resounding victory winning the most votes in Britain. According to a UKIP press release posted on Mr Grillo's blog, the pair agreed to meet again soon to further discuss the idea of forming a front together.
 "If it works out, if we manage to reach an agreement, we could have fun causing a lot of trouble in Brussels," Mr Farage commented.