Congolese kids finally reach Italian homes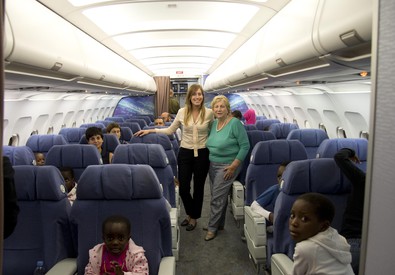 ROME-A group of 31 Congolese children adopted by Italian families arrived Wednesday at the Ciampino military airport after months of bureaucratic deadlock.
 More than twenty Italian families welcomed the newly arrived as they walked down the steps from an Italian Air Force jet accompanied by Minister of Constitutional Reforms Maria Elena Boschi, who had been sent by the government to Kinshasa to persuade the authorities to let the children leave and be reunited with their parents in Italy. Despite having completed the adoption process, twenty four Italian couples had been unable to bring their new family members home from the Democratic Republic of Congo, waiting for the final authorization.
 In September the DRC government suspended permissions on all international adoptions over suspected irregularities, however none of the procedures in question concerned Italy. Despite the intervention in November by former Integration Minister Cecile Kyende, in charge of international adoptions, and reassurances given by the local authorities of a positive outcome, the standstill continued, until a breakthrough was made recently by the Italian government's delegation.
 "The children are well, they are happy to be with their adoptive families and in the airplane they plaited my hair," Ms Boschi told reporters. "They went mad with joy once we had landed at Ciampino and they recognised their parents from the cabin windows," the minister added.