Terroir, a perfect sense of place: The Tuscan Sun Festival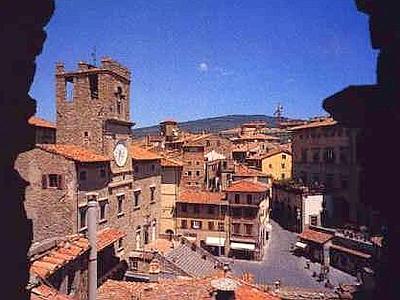 CORTONA -- Before the offering of eight wines to taste, comparing Australian with Tuscan, we were treated to a taste of viniculture, given by a knowledgeable and witty Australian wine consultant. Terroir, a French term, tries to explain the inexplicable: "a conjunction of factors that makes one wine different from another". In less romantic terms, it includes drainage, local microclimate and sun exposure. In more poetic terms, the sense of place, the taste of its soil, the varied ways of placing the vine, and the love and care that produced it; variables both countable and mysterious, geographical facts and spiritual and traditional secrets.
What makes Tuscany unique? Terroir indeed. There is something about the land. Something that draws a sense of awe, but tempered by a welcoming, intimate space. The land attracts reader-pilgrims to visit the place where Frances Mayes describes her love for it and created a festival, eight years running, for eight days in late July.
Over the years, tens of Italians have asked me if I prefer the mountains or the sea. Many seem committed to one over the other as passionately as their soccer team. Could anyone make a choice of favourite landscapes in Italy, a land like no other for its geographical variety and beauty? In contrast to its luxury, there is the sense of community, the embrace of the architecture. Even its greatest awe-inspiring church, St. Peter's, was designed with a sense of welcome in mind. If I were coerced, I would choose this landscape, Tuscany, for its inconstant sunflowers and gracious lavender, the land worked with such care, the humanized landscape.
For a brief few days, one gets the chance to, open the sliding door and lead a counterpart life. No commuting. Grandiose and graceful beauty of nature and architecture. After a few days, one sees familiar faces, fellow tourists and locals. A small-scale festival in a small town, the Tuscan Sun Festival, has its terroir, offering a unique combination of opera, classical music, poetry, art, cooking lessons, wine tasting, excursions to vineyards, lectures on music, yoga and Chinese medicine. The festival organizers coddle artists and tourists with the loving care of a sommelier.
By day, one hears English, Dutch and German, and by night, the town on loan is returned to its Italian inhabitants, mainly teenagers, flirting and hovering around ice cream parlours open past midnight. The presence of Americans is not an intrusion. It is the spirit of the festival itself. Each one relives a sensation or a memory of the author herself. In brooding jealousy, I pondered the success of authors whose descriptions of their travels led them to stardom and to purchasing a home in the countryside they love. They tap into some kind of yearning. Readers on the way to skyscrapers have fallen in love with Tuscany and Province, both lavender landscapes, similar in their lavish pleasures, proud specialties.
In a converted convent, Casa Betania, all rooms with a view —and what a view— I met two English couples attending a wedding and two Canadians from Winnipeg who knew my father's family. They gasp in 19th century corseted sighs when you say that, in fact, you live in Italy. The reactions bring out the romantic even in the most prosaic of citizens. Many of the women imagine being Frances, in her movie version, making love to a gorgeous Italian before finding a fellow writer, the love of her life, concentrating on her culinary skills, inviting to her home in progress the warmest Italian families to reciprocate her gratitude. She can prove that, by Jove, she can cook their food as well as they can, and that, by Bacchus, she knows how to serve the appropriate wine.
I remind myself of a gaffe I made, something I excel in. I joined a generous group of American retirees who invited me for wine one evening after a festival concert. They asked me if had liked the book Under the Tuscan Sun. I responded, "Nice fantasy. But who can possibly afford to come here and buy a house? This woman was a poetry teacher! Gee, and she doesn't have to work. She can devote a day to sampling fresh basil."
One American said, "But we bought a house here. The workers are excellent, by the way."
"And where is the story, the insight? More stereotypes about charming but inefficient Italians workers." I continued, the foot now deep in my throat. "This book is for overworked Americans who get no holidays. But real life is hard in Italy, for Italians and foreigners. Affordable housing is a holy grail. Job hunts end with smoky promises, anachronistic salaries and no contracts. The handsome Italian we all dream may even chase foreign women from time to time, but changes are, returns at night to his wife or mother – or both. Here we have yet another author doesn't speak the language, cannot really speak with the people or enjoy the culture"
"She's a good friend of ours", one remarked.
I then had an outer body experience, watcher the earthbound self cringe and backtrack, "I see how people are swept away by her book. Food, romance, beauty, Tuscany. And obviously she is a poet and chef. It's a winning combination", I added.
"I guess you have bad Karma", I was told.
I tried to put a new spin on my Karma, rubbing turpentine on the painted corner I found myself in. "And yet, we foreigners all fall madly in love with the country and even more so for the efforts it takes to make a life here. It is obviously all worth it."
I couldn't sleep that night, deliberating over the importance of not answering honestly.
There are so many festivals in Italy, of music, dance and opera. In Rome alone, there are at least 20, opera, dance, jazz. But this one is special. Such a small town, La Cortona, but attracting artists of such high calibre, of every genre. Continuing the tradition that every Italian art teacher talks about, the great epoch of European travellers and artists—the obligatory Grand Tour to Italy, celebrated in films by Merchant Ivory.
Whispers I overheard said that Robert Redford was the most beloved guest over the last eight years. And did those feet, I mean, did his feet grace these cobblestone streets, where now I walk? And did those of my unrequited love, Dmitri Hvorostovsky, the gorgeous baritone whose wondrous voice bespeaks of his terroir of Siberia? This summer, the town of La Cortona hosted other great artists, such as Joshua Bell and Renee Fleming. And then the wildly famous singer songwriter and activist, Sting, who formed part of an ensemble with his wife, celebrating the great music and love of the Schumanns. Star ballet dancers graced the final, gala performance.
Often our lives bear no resemblance to movies that offer us mere fantasy. None of my girlfriends own a home in Tuscany. One owns a two-by-four in a village in Lazio. No one dates a man remotely as beauteous as Raul Bova. And true, few people I know lead lives anywhere close to the festival's creator and author. And yet, holding a glass of wine, anticipating a concert, exchanging life stories with a baker, and overlooking the Tuscan hills, one sighs and says, "No, not like the film. Much,much better."