Amalfi hosts Italian-UK jewellery design awards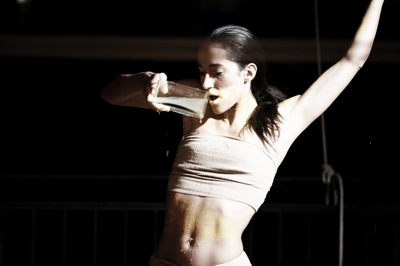 Amalfi ballerina at awards ceremony
AMALFI, Italy — Massimiliano Bonoli and Marisa Horden of the Missoma brand won the best young Italian and United Kingdom jewellery design awards at a dazzling gala presentation on the Amalfi coast last week-end marking the first time the prestigious event was held in Italy.
 Bonoli, previously the art director of the Cielo Vemnezia group, set up the Mattia Celio brand as a project with Mattia Cielo. Missoma is one of the UK's most sought after designer jewellery brands, specialising in 18 K gold vermeil jewellery with precious and semi-precious stones. Known for its unique, directional designs and instantly recognisable vibrant colours, Missoma is distributed in over 17 countries worldwide including department stores Harrods, Harvey Nichols and Liberty in London.
 The awards were announced to a crowd of designers, foreign press and officials from Naples and the Campania region by television anchorwoman Ilaria D'Amico at the stunning Santa Caterina hotel overlooking Amalfi. Also present were members of the municipal council of Torre Del Greco, the seaside town nestling under the Vesuvius volcano that is home to one of the oldest established coral jewellery design schools in Italy where many top designers are trained.
 For the past 15 years the awards were announced in Birmingham, England, but the Campania region persuaded organisers to come to the beautiful Amalfi coast this year and expect that the event will remain at Amalfi at least for the next  two years.
 Giancarlo Montebello was named the best professional Italian jewellery designer, Dodo was awarded the prize for the most innovative Italian jewellery flagship store and Damiani took the prize for the most innovative Italian brand jewellery.
 The Capri maison Chantecler, famed for its extraordinary creations in coral, won the award for the best jewel realised with materials and techniques of Campania jewellery.