Graziano's budget fiasco "paralyses FAO"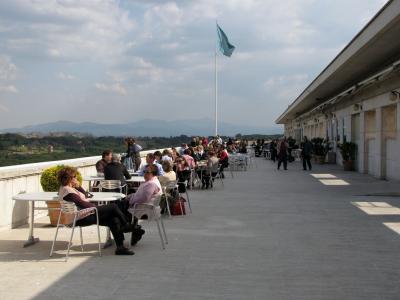 Sitting it out: FAO staff break on their panoramic terrace. Many units have no idea of their budgets.
ROME –Despite the U.N. Food and Agriculture Organisation being five months into the new year, many units still have no idea what their budget is, FAO sources say.
  "The official budget was approved by the FAO conference in June 2013, but by all accounts this was complete fiction, cooked up but based on real numbers," an FAO veteran senior manager told Italian Insider.
 "The numbers added up to a limit of what the countries would give, but there had been no serious analysis of what resources were required because the costs to deliver the work had not been fleshed out at the time of the Conference," the source said.
 By the beginning of 2014 talk about how to deliver the budget was only just beginning. "Many units report to be still unsure of what their budgets are. Confusion reigns and work is stagnating in many areas and country offices." In the field many programmes are at a standstill.
 The FAO Director General, José Graziano da Silva, meanwhile, remains oblivious to such problems, observers say. "He has created an environment of such intimidation that no one will come to him with the truth," a Western diplomat said, "He has surrounded himself with sycophants. Anyone bringing bad news is considered disloyal. Graziano insists on seeing results but has not created an environment for his staff to resolve issues and to deliver."
 Under the Canute-like Brazilian agronomist's leadership "staff spends countless hours in rap sessions on lofty strategic goals and implementation issues but spend less and less time delivering," the envoy added.
 "A few thousand dollars get saved on replacing paper towels with hand driers in FAO bathrooms while tens, if not hundreds, of millions of dollars are being wasted as FAO gets more and more lost in a planning and budget nightmare."
  Before Graziano came to office in 2012 elected by a wafer-thin majority, FAO had gone through a gruelling process of developing a more results focussed programme in response to an Independent External Evaulation. Member countries held lengthy discussions to redefine and focus the work of the agency, attempting to make it more relevant and results oriented. When Graziano arrived he tossed out all that work and let it be known he had a better way.
 "The programme and budget that Graziano prepared for the 2014-2015 biennium, his first complete budget as Director General, is considered by staff a nightmare of complexity," one observer added. "The budget is formulated using a matrix management approach, a management approach tried and universally discarded.
  This puts substantial budgetary authority in lower level managers and ignores the existing bureaucratic structures." "Then to try to retrofit a system that was not understood and not working, global initatives, regional initatives, technical networks, major areas of work, and other approaches were overlaid to make sense of it all, requiring more team leaders, task teams and further discussions leading to a further confusion of roles."
 The FAO veteran manager told Insider: "Working has taken a back seat to creating an image of change. Without a workable budget on Jan.1, the staff were greeted in the new year by a blue arch in the FAO entranceway and signs all over the building promoting the wondrous new way of working."
Talking shop? A recent FAO forestery conference
Oblivious? FAO Director General José Graziano da Silva (centre)