Beauty Belen steals show as media career makes her Italy's top star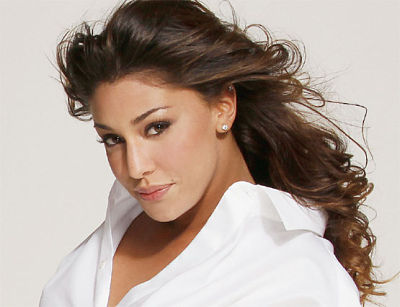 ROME — Italy is often criticised as a nepotistic gerontocracy, but a 25-year-old showgirl from Argentina is challenging that cliché and becoming in the process the face of Silvio Berlusconi's image-conscious Italy.
Belen Rodriguez arrived here five years ago as a lingerie model with little more to recommend her than a pretty face, sensuous curves and a quick wit.
She made her television debut in 2007 on a little known local TV station in northern Italy, Tele Boario.
Today she has her own late night comedy show on state broadcaster RAI, and as the face of a major advertising campaign for the mobile phone operator Telecom Italia Mobile (TIM), her image is ubiquitous.
Recently it filled a giant poster covering the façade of Palazzo Venezia, the palace in central Rome from which wartime dictator Benito Mussolini used to harangue the crowd.
pull quote: The stratospheric take-off of Belen's media career says a lot about the role of women in an Italian society
On television it is hard to avoid for long, as she and actor Christian De Sica – son of the neo-realist director Vittorio De Sica – star in an oft-repeated TIM advertising campaign in which they appear as an unlikely pair of Miami cops.
Last week her figure in a red dress occupied an entire page of the business daily Il Sole 24 Ore – the Italian equivalent of the Financial Times – and in a blue dress was on the cover of the weekly magazine Oggi.
Given that she is fronting TIM's sponsorship of the Italian national team in the soccer World Cup it will become even more familiar in the coming weeks, this time on TV in micro-short shorts.
The stratospheric take-off of Belen's media career says a lot about the role of women in an Italian society shaped by the trashy TV pioneered by the prime minister in his previous incarnation as a media magnate and where the attitude to sex is dictated by the diminishing moral influence of the Vatican and feminists, the latter having mysteriously disappeared circa 1980.
Belen's popularity was launched by her appearance in the 2008 version of The Island of the Famous, a Survivor-type reality show where she finished runner-up to Italy's first transgender MP.
It gave her an opportunity to show off a likeable personality and a good sense of humour, together with her other attributes in skimpy bikinis.
She also appears to have been well advised to drop her first boyfriend, a handsome Serie A football player named Marco Borriello, and replace him with controversial photographer Fabrizio Corona, who succeeded in the remarkable feat of giving paparazzi an even worse name.
The heavily tattooed Corona is an expert in the mechanisms of celebrity media, having been convicted of blackmailing a number of high profile football players by threatening to publish embarrassing photographs obtained by his photo agency.
He memorably appeared nude in a Swedish-made documentary about Italian TV, Videocracy, where he described himself as a kind of 21st century Robin Hood, who stole from the rich to give to himself. Corona also appeared nude, entwined around a similarly nude Ms Rodriguez, in a series of photos shot while they were together on a romantic holiday in the Maldives.
The photos – naturally – received enormous play right across the Italian media.
Corona's chequered career and difficult character – he was once almost lynched after insulting the public in a Calabrian discotheque where he made a professional appearance some five hours late – does not seem to have had any damaging effect on Belen, whom people seem to admire for her loyalty to such an awkward customer.
Belen now has the chance to convert her enormous notoriety into artistic success. She has just recorded an episode of the popular Montalbano TV series, about a Sicilian detective, and has been invited to make a feature film with the well-known director Pupi Avati.
"If Belen finds her Carlo Ponti she could be the next Sophia Loren," her advertising partner De Sica commented recently.
In an engagingly modest interview with Oggi she acknowledged the difficulties she was encountering in her new career as an actress. "I have understood that to be an actress you have to study: I'll do it."
And she revealed an impressive knowledge of football, criticising the player selection of Diego Maradona and confiding she hoped for an Italy-Argentina final, which would leave her satisfied whichever way it went.
She even had kind words for her ex: "Marco is the best-looking football player in the world. He's 15 times better-looking than Beckham."
"Beauty has always encountered great success in Italy," said an advertising professional who has followed her career. "But there's more to her than that. She appeals to women and children. She's likeable, bright and has a good sense of humour."
With the World Cup set to make her even more famous, many will be wondering ruefully why meritocracy in Italy should be restricted to the rather particular world of the showgirl, and whether Belen Rodriguez is really the ideal model of female professional success.