Renzi in Milan to save graft-torn Expo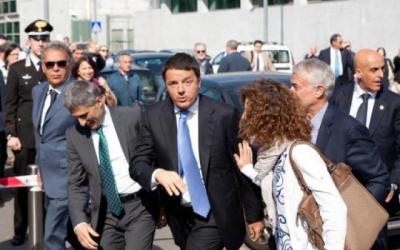 ROME-Prime Minister Matteo Renzi visited Milan Tuesday to support 2015 world fair after a series of arrests of Expo managers over corruption allegations.
 The Italian prime minister also visited the Massausa elementary school where he asked students to help him "change Italy." Mr Renzi was welcomed by Mayor of Milan Giuliano Pisapia and students.
 A group of teachers and students, including those from San Giusto cooking school, welcomed the prime minister outside the school, considered to be the oldest in the fashion capital. Massausa was chosen from among others following a letter sent to Rome with a loan request to improve safety inside the historic building.
 "You are extremely important although you still cannot vote," stressed Prime Minister Renzi, "help me change Italy." This was the message from the chief of state to the children. Also, a copy of the Italian Constitution was given to the students, "a text that holds us together," as the prime minister put it.
 Mr Renzi then arrived at the Expo headquarters, this time greeted by protestors shouting "shame, shame." Their signs and red flags read: "Stop evictions, foreclosure, and evacuations!" The activists called the Expo a fraud, and carried banners "a single activity, home for everyone." Next to the entrance there was also a stand of the Lega Nord (Nothern League) party.
 Mr Renzi recently appointed Raffaele Cantone Public Prosecutor on the Expo fraud cases. Previously nominated by ex-Prime Minister Enrico Letta, Mr Cantone was renominated to preside over the National Authority Against Corruption. An organization that the premier wants to use as a "task force" to eliminate corruption surrounding the Expo 2015 event.
 Mr Cantone had already worked on delicate cases as magistrate in Naples against the Casalesi clan part of the criminal organization Camorra. Due to his job and repeated threats he has been living under constant security surveillance.