Syrian rebels reject Quirico kidnap claim
Farouq Brigades commander Abu Malek in Syria's Latakia region mountains. Photo credit: Shelly Kittleson
 REYHANLI, Turkey –Following his 152-day kidnap last year, reporter Domenico Quirico blamed a rebel unit previously known for helping journalists -The Free Syrian Army-aligned Farouq Brigades has many defected officers and a structure organized more closely along military lines than many other groups fighting the Assad regime.
 In 2012 Farouq also grabbed headlines for getting trapped journalists out of the regime-besieged area of Baba Amr in the Old City of Homs.
 The underlying theme of the book the Turin-based La Stampa daily Quirico was to release a couple of months later, entitled ''The Country of Evil'', was that Syria had become a land where ''evil triumphs'' and ''even children and the old rejoice in their malevolence'', with the anti-regime rebellion now nothing but Islamist extremists and criminals seeking to enrich themselves.  He claimed that a branch of the Farouq Brigades had kidnapped him and his travel companion, the Belgian writer and teacher Pierre Piccinin da Prata.
A number of commanders from the group strongly disputed this allegation in recent conversations and interviews with this reporter, both inside Syria and in the Turkish border area.
In an interview with Farouq leader Abu Sayeh in the Turkish border town of Reyhanli, the Italian Insider was told that Farouq had been asked by the FSA's Supreme Military Council to act as a mediator in the case, and that they had put some of their officers at risk to do so.
Over a number of days spent inside Syria in the Latakia region mountains in April with some of the group's members, this reporter also spoke extensively with one commander about the incident.
Like most other rebel fighters, Abu Malek, formerly an officer in the regime army, uses a nom de guerre to protect his family - 18 members of which he says have been killed by regime attacks. He has not seen his wife and daughters for over a year and a half.
The defected officer said he and other Farouq fighters had been responsible for getting Spanish El Mundo journalist Javier Espinosa, the injured French Le Figaro photographer Edith Bouvier and others out of the regime-besieged Homs and to safety in Lebanon in early 2012 after the US war reporter Marie Colvin and French photographer Remi Ochlik were killed in regime bombardment of the Baba Amr area. The Farouq Brigades were initially formed in the city, which is Syria's third largest and has suffered extensive damage.
Bouvier confirmed to the Insider that Farouq Brigades had been ''very helpful'' to her and other journalists there, and that their fighters had donated their blood for transfusions to the injured journalists. The French photojournalist was seriously injured in regime air strikes and the rebel fighters initially tried to get her out on a stretcher through a tunnel they had dug, before that too came under regime bombardment. It subsequently took rebel fighters some four days to cross the 25 miles to the border to get her out safely.
According to Abu Malek,  Quirico and Piccinin were taken in Qusayr in April 2013 by two independent battalion commanders, Mowaffaq Abu Alsos and Al-Sheikh Werdan. Neither of those battalions, he stressed, were working with Farouq.
The Insider was told that the first was formerly a commander in Farouq but that he had left the group months before and started his own battalion. He announced the split in a Youtube video clip shown to the Insider. The video was uploaded in November 2012, months prior to the abduction of Quirico and Piccinin in April of the following year.
The second battalion commander who Abu Malek said was responsible for the kidnapping, Al-Sheikh Werdan, was said to be the leader of a local group with links to Al-Qaeda.
According to the account given by its military office chief Adnan Al-Najjar, the Farouq Brigades were contacted by the Syrian National Coalition after it was asked by the Italian government to secure the release of the two men. The brigade was chosen on the strength of the group's amicable relations with other rebel groups and their reputation for assisting media workers, he said.
The Farouq Brigades' leaders publicly espouse a non-ideological position and say that they ''want only what the Syrian people want'' and that free elections be held. Some of their men do follow a strict interpretation of Islam, however, and they regularly work alongside Islamist forces in the struggle against the regime.
On their release, both Quirico and Piccinin recounted the horrible conditions they had subjected to during their time in captivity, saying that they had been handed off from one rebel group to another and that only during a short time spent with the Al-Qaeda affiliate Jabhat Al-Nusra were they treated humanely. They also spoke out any possible foreign intervention to bring the Assad regime down.
Piccinin is a Belgian teacher and writer of political op-eds whose early writings on the war were all strongly anti-interventionist, saying that in his first two trips inside in 2011, he had found that most of the country was not rebelling and that:
''The main reported cases of unrest are linked to regular attacks from Salafist bands which are of an extremely violent nature and more importantly, the Free Syrian Army. The latter counts amid its ranks numerous Qataris and Libyans'',
He failed to reference what he was basing this claim on, and most experts say that foreign fighters started entering the country at a later date and tended to join Islamist groups and not FSA ones.
In 2012 he made a third trip inside and was captured by the regime, suffering torture at their hands. He then shifted to supporting foreign intervention, saying that his first actual contact the FSA and its members had come on the latter trip.  
On his release after the five-month hostage ordeal with Quirico in 2013, he changed his views abruptly again, after he claimed to have overheard through a closed door two men – one of whom ''claimed to be an FSA officer'' – discussing the Sarin gas attacks on the Damascus area of Ghouta in August 2013, which most sources say only the regime would have been capable of carrying out.
Piccinin says he heard the two men saying things in English that made him ''sure it could not have been the Assad regime behind'' the attacks.
He has yet to detail exactly why, or to explain how it was two Arabic-speakers came to be speaking in English about a matter that they would presumably want to keep secret from the foreign hostages on the other side of the door.
Both he and Quirico claim they were tortured, but Motaz Shaklab, who acted as negotiators with the kidnappers,  scoffed at the claim in an interview published in the Foreign Policy magazine in January, saying that  ''I know they were not tortured by anybody''. On the former hostages' various other statements about the ongoing conflict and what was going on around them, he commented that they were simply ''amateurs who did not know a lot about Syria''.
Shaklab said that the Italian authorities had paid 4 million dollars' ransom for the men's release.
Farouq leader Abu Sayeh said that a deal was made to hand over Quirico and Piccinin to the care of one of their local commanders, who took the two to a house in northern Syria while waiting for negotiations to be completed.
Abu Sayeh told the Insider that the process took a total of two months, during which time the kidnappers detained a Farouq battalion commander and one of his men in Qusayr - close to the Lebanese border and the area in which Quirico and Piccinin had initially been taken – as they had begun to think they had been tricked.
A complicated series of negotiations ensued, he said, leading eventually to the paying of the ransom for the hostages in the Lebanese town of Arsal and their release into Turkey through the Bab Al-Hawa border crossing.
An estimated at least 30 journalists have been abducted in Syria (the exact figure is unknown as there is a media blackout on many cases) and the number rose sharply last year alongside the rise in power of the Islamic State of Iraq and Al-Sham (ISIS), an extremist group that initially started as an off-shoot of Al-Qaeda but has since cut off ties with the global jihadist network started by Osama bin Laden. Circumstantial evidence points to connections between ISIS and the Syrian regime, and most of the foreigners still missing are thought to be in ISIS's hands.
Farouq and other FSA and Islamist groups have been working since early January to dislodge ISIS from as much of Syrian territory as possible.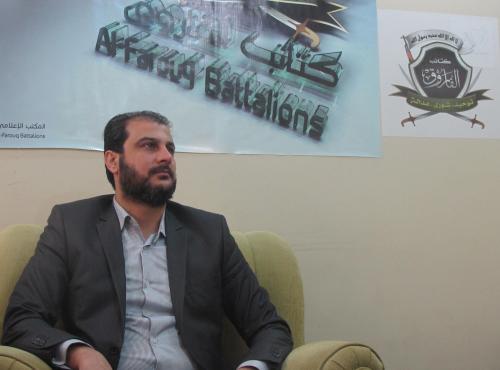 Farouq Brigades leader Abu Sayeh. Photo credit: Shelly Kittleson