Col. Darby honoured in Ranger Challenge
Soldiers of the 10th Mountain Division walking up Lake Garda (Source: Denver Library)
LAKE GARDA- The fifth Col. Darby 40 Mile Ranger Challenge- an annual trek from Peschiera del Garda to Torbole, was led by retired Ranger Rick Tscherne in memory of Darby,  the Rangers founder.
 Darby was killed by shellfire at Torbole April 30, 1945, leading the 10th Mountain Division, and was posthumously made a General. Ranger Rick, 62, lives in Bardolino and considers this walk a challenge to honour Col. Darby. The walk finishes in front of the little church Santa Maria a Torbole where there is a monument to him.
 Rick is surprised by how few people realize where this important figure in American military history died. He is buried at Fort Smith National Cemetery in Fort Smith, Arkansas. This year Ben Appleby, vice-president of the Associazione Benàch (a local history group in Torbole), joined Ranger Rick.  Ben, 36, a geography teacher at a school in Rovereto and Ronzo-Chienis, shared this objective: "Doing this walk was important not only for the memory of Col. Darby, but also for the memory of the 24 men who died crossing Lake Garda on a DUKW (amphibious truck boat) from Torbole to Riva also on April 30."
 Although the DUKW was located in December 2012 by the Gruppo Volontari del Garda, no human remains of the soldiers have ever been found despite calls from family members to the American government to send a team from CILHI (Central Identification Laboratory Hawaii).
 Rick and Ben were accompanied by their wives Silvia and Antonella (secretary of the Associazione Benàch) to the start point, Peschiera del Garda railway station at 6am: the hardest part of the challenge, walking on the main road, started under the relentless rain.
 After some hours, it was possible to walk along the lakeside and this made up for the suffering. We passed beautiful little ports of old fishing villages which you would never see from the road.
 Torri del Benaco was our first stop for a quick cappuccino. This was duly welcome after the cold rain we had been walking under for the best part of three hours. The half way point of our challenge was the small village of Pai, where we were lucky to find the rain easing off. Although every time I was at the point of taking off my poncho it rained again.
 Then arriving at Brenzone the rain stopped, the clouds shifted and we could see the snow capped mountain of Monte Baldo. Even though the clouds were not above us for now we could see dark clouds hovering over Torbole. Anyway for now we were dry and spirits were good, next stop was the beautiful town of Malcesine with one of the most picturesque castles on Lake Garda.
 Another quick pit stop for an ice-tea before heading off to the tunnels for the final leg of our walk. It was in these tunnels where both American and German soldiers suffered heavy casualties, especially in the tunnel of 'Corno di Bo' also known as the 'blood tunnel'. Leaving the last of these tunnels we walked the final kilometers to the small church of Santa Maria, where we were met by our wonderful wives and we paid respects to the Col. Darby's monument. The entire hike took some 12 hours though Rick's personal best is just over 10 hours.
 What it must have been like as a soldier walking such a long distance with a full pack and then having to go into combat is hard to imagine.
 Next year will be the 70th anniversary of the death of Col. Darby. If you would like to join this walk you can contact associazionebenach@hotmail.com or Rick Tscherne through his site http://www.survivaloutdoorskills.com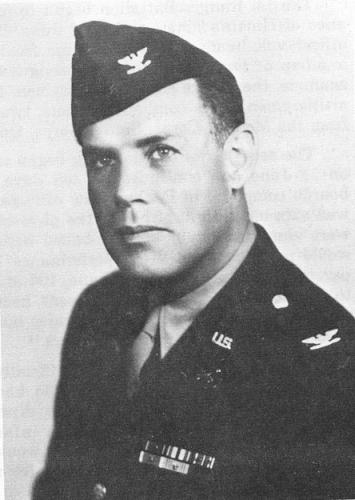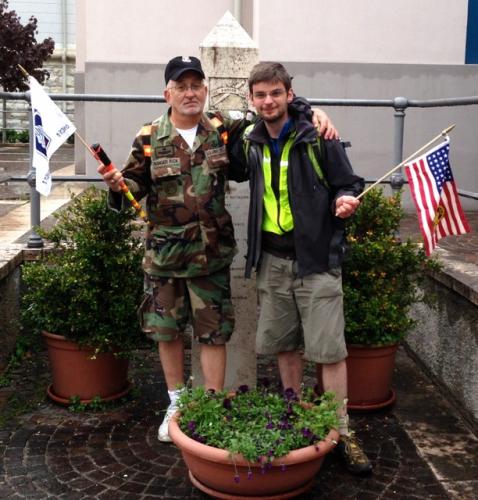 Ranger Rick and Ben at Col. Darby's monument