IFAD croneyism ends Kumbaya euphoria
Bracing leadership: Kanayo Nwanze (left) in Colombia
ROME –IFAD staff held hands singing Kumbaya recently but Director General Kanayo Nwanze has ended the euphoria by hiring a new Budget Director from his native Nigeria, UN sources say.
 Some senior managers of the International Fund for Agricultural Development even danced on stage dressed as "men in black," at the global staff meeting in February with all 600 staff, including those from the field. The feelgood event was organised to try and boost morale at the vast new headquarters building in the Laurentina area of Rome after last year IFAD's most senior management got a "very lousy" result in the global staff survey where less than 20 percent of staff expressed confidence in their top management, IFAD sources told the Insider.
 "A growing gap between top management and staff was clearly expressed and above all a lack of trust in terms of transparent requirements and respecting approved HR rules and procedures."
 "Staff got excited, worked around the clock, organized interesting workshops and briefings, even fun events - thinking maybe now it's actually happening, maybe top management have listened" one well-placed source added. "The show was a success, everybody had fun, the President made strong statements about the IFAD family being a group of equals and we are in this together - Yes we can!" he added.
  However it was back to normal a short time later when the DG appointed his co national from Nigeria, Saheed Adegbite, a graduate of Awolowo University, to the powerful position as Director of Budget. "Observers from the staff association clearly pointed out that he was not the most qualified candidate among the interviewed, the DG went ahead with yet another surprising appointment," an IFAD watcher said.
 "At the same time staff are often being pressured by members of the Executive Management Committee to hire their favourites or friends, even for short term monthly assignment, which puts staff in an uncomfortable position. There is also an increasing interference from members of the Executive Management Committee in the selection of short listed candidates for vacancies, although this is not in accordance with the approved HR policies and procedures."
 "Although these were precisely the things top management were criticized for in the global staff survey, members of the executive management committee are doing the same mistakes all over again. Staff are just shaking their heads in disbelief." This behaviour is seen as "also a clear symptom of extreme micro management by top leaders who are hired and paid to deal with the strategic issues of the organization but don't know how to, so they fall back to the nitty gritty they feel comfortable with, hence adding little value."
  "So much for singing kumbaya together and meeting as equals - at IFAD it's sadly business as usual again," the observer added. Diplomatic sources said it was unsurprising Mr Nwanze wanted a sympathetic connational in charge of the budget. In 2011 the flamboyant DG was forced to move out of his sprawling luxury villa in parkland on the Appian Way after Italian Insider disclosed his sky high expenses. Auditors accused him of putting pressure on them to conceal his expenses with one saying "this guy blows millions."
  Nwanze survived the scandal by letting a deputy take the rap and was duly re-elected but the affair led Australia's Government to decide against re-joining the troubled organisation. Nwanze also has moved to ensure control of the Executive Management Committee (EMC) by recruiting three members from his previous organization, the CGIAR.
 Also depressing for staff was the retirement this week of Kevin Cleaver, head of the most important Program Management Department. "Cleaver was widely recognized as a transformative leader who changed the business model of IFADs operations, which he was in charge of," a veteran UN source said.
 Mr Cleaver's departure means that "staff lost the only senior manager with whom they could relate to and had trust in," the source said.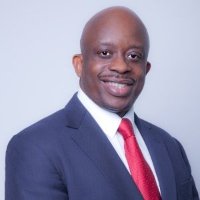 Compatriot: Saheed Adegbite.