Interview: AOSR "Building Future Global Leaders"
AOSR Head of School Dr. Beth Pfanni (left) with Asia Colombo
ROME–American Overseas School Head Beth Pfannl reveals in an interview how the "American system of education produces students like global leader Steve Jobs."
 The genesis of the AOSR was at the end of World War 2. Ten American and British mothers founded the school in 1947 for children of U.S. and British servicemen stationed in Rome and Trieste. Those parents persuaded the Torlonia family to rent the Villa Torlonia on Via Nomentana for the school's first elegant home. In 1952 it transferred to the current pleasant site on the ancient Roman consular road, the Via Cassia on the other side of Via Sesto Miglio. The school is approximately 8 kilometers from the center. The name of the institution was changed in the 1980s; it was previously the Overseas School of Rome.
 Dr Pfannl is a native New Yorker who grew up in Madrid.  She received her B.A. from McGill University in Montreal, then her doctorate from the Sorbonne in Paris. From Rhode Island College, Dr. Pfannl holds a Certificate of Advanced Graduate Studies in School Administration. Her work in education honored her with a National Distinguished Principal Award in 2003 from the U.S. Department of Education, and the National Association of Elementary School Principals. Recently she was inducted in the AAIE Hall of Fame. Before 2003, her starting year at AOSR, she was a school administrator at the American School of Asunción, Paraguay.
 The school offers classes from pre kindergarten until the last year of high school. "We take the best of American public school education in the United States, supplemented with what being in Rome, (and) therefore in Italy and Europe, has to offer. AOSR is in a great location for pupils to take advantage of the arts, culture and history," Dr. Pfannl told the Italian Insider in her office.
 "It is not only a matter of students having to do well academically," she said, "we teach the whole child." The head of school went on to explain how the faculty and administration motivate students also to take opportunities outside the school. Last year, for example, a group of students started volunteering at a refugee center in Rome. The school encourages students to participate in classes and extra curricular activities such as the Model United Nations (MUN) and the Global Issues Network (GIN), which bring together students from all over the world to debate about and seek solutions to global issues.
 "The world outside needs to be investigated and experienced by students because it is important for them to see the differences to the environment found at AOSR," she said.
 The physical surroundings of the school are idyllic. The leafy school grounds include three main buildings: elementary, middle, and high school. A soccer field, tennis and basketball courts, and various outdoor areas including a quad and a deck overlooking the Parco di Veio, offer students a place to relax during their free time. For younger students, playgrounds were installed, where teachers can supervise children as they play during recess. "Our school is often seen as idyllic and somewhat of a paradise by our students," said Dr. Pfannl.
 "Everything is clean,and neat. If a piece of paper is on the ground, I pick it up.  It is important for students to see all of us as role models. There are rules that everyone is expected to follow. Just as we, the administration, staff, and faculty respect students, they expect and deserve the same from us."
 At AOSR, teachers provide a well-rounded education. "We expect students to question what they are learning, and ask. This is one of the cores of an American education. AOSR offers students courses that include art, physical eduation, and music, and we encourage them to incorporate all of these within their education."
 Dr. Pfannl emphasizes the importance of core values that are taught at the school. "Education is the same no matter where you are from. Unfortunately, children sometimes learn intolerance and prejudices from adults. In contrast, in this school we believe children from a very young age can, and should be taught that honesty and tolerance are essential core life values."
 The school's mission statement posted all around campus -in all classerooms and offices- clearly states, "The American Overseas School of Rome prepares tomorrow's global leaders to meet the challenges of our changing world with courage and integrity." This echoes the Head's sentiments of ensuring pupils are ready to integrate into the work environment when leaving the school and make a positive difference.
 AOSR welcomes more than 625 students of whom one third are Italian, one third American, and the remaining coming from as many as 50 different countries. "We can definitely say AOSR offers a truly international educational environment. The goal is to be here for students and be a leader in education in Italy as an international school," the Head adds. This global spirit is seen all around campus.
 "One third of the student body turns over every year due to parents' work. However, we eagerly welcome new students every year at AOSR. We are fortunate that we can be extremely selective in the admissions process.  We want to make sure that a student is able to find success at our school. Currently there are waiting lists to be accepted."
 Students who graduate from AOSR go on to colleges and universities in renowned institutions, such as New York University (United States), University College, London and Durham University (England), Edinburgh University (Scotland), the Università Bocconi (Italy), AUR and John Cabot in Rome, and many more. "Being selective in the admissions process as well as maintaining a challenging study environment for our students, guarantees that graduates will be admitted to some of the most prestigious colleges and universitites after graduation," says Dr. Pfannl.
 For Dr. Pfannl, 2014 marks her 11th year at AOSR. This has provided continuity and is more than the average three-year or so tenure for Heads of international schools around the world. "I have stayed on all these years because I fully believe in -and I am fully committed- to the mission of our school and the challenges this institution has given me," she underlines.
 AOSR's goal, she says, "is to create future global leaders." She continues: "The American education model is incredibly strong as it stresses the importance of trisk taking,  questioning what one is learning. and learning from one's mistakes.  The U.S. model differs from other educational systems, such as in China for example, where more than 6 million HS students graduate every year with top scores on written exams but not necessarily strong in the area of critical thinking.  The U.S. model is known for  producing creative, risk-taking minds."
 Dr. Pfannl and the school face many challenges. "All decisions must be made taking into account what is in the best interest of our students. We have to all be on the same page. That is how I make my decisions. At the same time, I have to juggle the needs of parents, teachers, staff members;   including a cleaning crew and a group of about 30 bus drivers that provide transportation to our students on a daily basis.  Each individual has special needs and interests.  It is the school's mission that unites and drives us all."
 Another challenge is choosing the faculty. "I consider hiring teachers the most important part of my job, " says Dr. Pfannl, "Teachers, in my view, are what makes the difference with students."  Qualities that she searches for in a teacher include "intellect, good judgment, passion in their subject matter, and most importantly a strong desire to teach and facilitate the learning process. Technology nowadays is very helpful in the recruiting process because we can now observe a teacher's work in class with a video, for instance." She also highlights how the teacher's enthusiasm in their job can make a big difference for students.
 International Baccalaureate and Advanced Placement exams are given at AOSR. "Until 2012, Italian students had to earn an IB Diploma from AOSR to be admitted to Italian universities," explains Dr. Pfannl. The International Baccalaureate (IB) Diploma Program, offered during the last two years of high school, is an option for students interested in a rigorous HS course of studies.. Qualified AOSR teachers teach IB courses; however, an external commission in Geneva, Switzerland, grades the official final exams.
 "Fortunately, beginning last year the Italian Ministry of Education decided to also accept  Advanced Placement (AP) exams (which are college level courses taught in high school), for admission to Italian universities." If a student takes a minimum of three AP exams and earns passing grades, they are now eligible for admission to Italian public and private universities. "I thought this was an excellent decision taken by the Ministry of Education, because it offers more options especially to Italian students, to select the best course of study to prepare for university ," explained Dr. Pfannl.
 Dr. Pfannl defines technology, "as a "pencil" for students nowadays,and an extremely helpful tool for learning." She explains that we have technology throughout the school. There is a one-to-one laptop program for students in 8th,and 9th grades in addition to several high tech computer labs, iPads and laptop carts throughout the school to facilitate learning. Special emphasis schoolowide is given to the teaching of digital citizenship. "It all goes back to the core values of respect, and responsibility and the knowledge of how technology can be used at its best."
 "Technology is moving forward and challenges educators to innovate how they teach in a way that can improve learning for students." A high school history teacher assigned students a project to create a Facebook page for a  historical figure . Dr.Pfannl was very enthusiastic about this project, "It resonates with students when you have to identify the dislikes, likes, and friends of King Henry VIII, for example!  It adds a contemporary perspective to the study of history."
 "This method of studying history is more effective and stays with the student, in addition of course to an original source or a textbook." Speaking of these technological innovations, the Head of School explains that she would be naïve if she did not recognize that nowadays we all use technology on a daily basis not only for learning and researching but also for our pleasure reading.  Over 500 devices are found around school. The campus has WIFI everywhere.  High school students are now expected to BYOD (bring your own device) to school for daily use.
 "We expect students to learn on their own with the support of the teachers, but eventually to graduate or move on to another school, with a sense that they can do whatever they want on their own -- This includes taking responsibility for their own actions and to "earn" rather than "get" their grades." Dr. Pfannl illustrates this point by giving a first-hand example of being a female Head of School.
 "Female heads of international schools are still a minority throughout the world. Unfortunately it remains a man's job. Part of what I do is to serve as a mentor," added Dr. Pfannl, "and model for female educators that it is possible to reach this position. I encourage female educators to consider leadership roles. It's important to offer professional development opportunities, like attending conferences, courses or participating at women leaders workshops." Dr. Pfannl recently organized a such a workshop with some female colleagues in order to "show women educators what being a head of school entails, and to encourage future school leaders to pursue this goal." An illustrious alumni and leader who studied at AOSR is Ruth Jacoby. Ms. Jacoby is the current Ambassador at the Swedish Embassy in Rome, Italy. She attended AOSR during the years 1953-1960.
 AOSR sits on an archeological site and building has always been a challenge.  Thanks to a new law, the school is now able contemplate the building of a state-of-the-art "Performing and Fine Arts Center, with underground parking."  A 500-seat theatre with classes and space for drama, art, and music is being planned. "The center will provide a great opportunity for our students with a much needed theatre and concert space for their personal and academic growth, but also for the community at large to rent and use. We intend to reach out and bring together the communities inside and outside of AOSR."
 The fundraising initiative to build the proposed Performing & Fine Arts Center was launched while celebrating AOSR's 65th anniversary this year. Two highly successful events that included a gala dinner and a celebration of Spring dinner/dance, kicked off the initiative. All proceeds from the two events are going towards the design of the new Center.
 For additional information, including how to make a donation online, visit the site: www.aosr.org.
 (Asia Colombo studied at AOSR from 2004 (6th grade) until graduation last year of high school in 2011. She is currently an undergraduate at John Cabot University)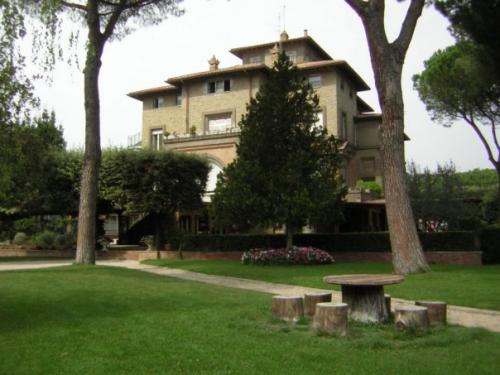 The current AOSR's elegant building
AOSR Students' graduation 2011. Asia Colombo is in the first row, fifth from right