FAO chief "vandalised elevator doors"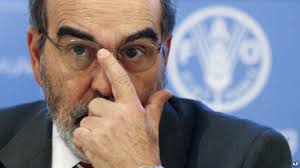 Handful? FAO DG José Graziano da Silva
ROME – Poverty buster José Graziano da Silva surprised neighbours the other day when he kicked in the doors of the elevator in his smart apartment block on the Aventino hill, FAO sources say.
 The Food and Agricultural Organisation Director General, known for bawling out subordinates in his previous job in charge of the UN agency's Latin American division, evidently put the boot into the lift in a fit of rage over frustrations in his ambitious plans to end world hunger, the sources said, speaking on condition of anonymity.
  While understandable given the scope of the task facing him, the incident evidently led to complaints from neighbours and FAO handymen were dispatched to repair the damage, they said.
  As if emulating an irascible latter day Roman emperor, Senor Graziano sometimes smashes the remote tv control in his nerve centre at the top of the sprawling former Italian colonies ministry by the Circus Maximus.
 Recently FAO management banned the Rome-based agency's chief doctor from holding a stress management course for staff on the ground that it was "off message."
  Meanwhile FAO's unctuous new communications wizard Mario Lubetkin abruptly cancelled a planned briefing for correspondents at the Rome Foreign Press Club that was due to be held Monday.
 No reason was given for the indefinite postponement announced Friday evening of the get acquainted session with the doughty FAO media team.