Erich Kusch, dean of German reporters in Italy, dies at age 79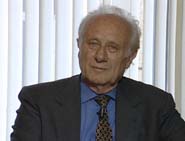 Erich Kusch, a distinguished Rome-based foreign correspondent and broadcaster who in 1961 became the first German to reach the South Pole, has died after a long illness at age 79. He was six times president of Italy's Foreign Press Association and a key figure in post-war German-Italian relations.
Kusch was "an extraordinary member who over many years gave very much to our Association," said Maartin Van Aalderen, the president of the Foreign Press Association. "A member since 1955, he was always a gentleman who never raised his voice, was always patient and kept himself distant from any clashes."
Kusch was the only member of the Foreign Press Club to be elected President six times. "Kusch led our association in exemplary fashion," said Van Alderen, "his death is a great loss for us."
A spokesman for the German Embassy in Rome said the mission was "in mourning for a friend of Italy." German Ambassador Michael Steiner said "he was the GrandSeigneur of the German correspondents in Italy. I always appreciated his profound knowledge of Italy and his wise counsels. Erich Kusch was a special man."
Born in Trieste in 1930 to a German father and an Italian mother, Kusch grew up and studied in Koblenz in Germany, graduating in 1949. From 1949 to 1955 he studied German literature, art history and political economy at the Universities of Bonn and Florence.
In 1955 he began working as a journalist, first as parliamentary correspondent in the press office of Dieter von Konig in Bonn, and later in Rome for a number of German publications.
In 1956 he was a war correspondent in Egypt during the Suez Crisis.
In 1961 he became the first German to reach the South Pole while reporting on the American expedition to Antarctica. From 1964 he worked for Suedwestfunk radio and then for newspapers including the business daily Handelsblatt.
In the course of his journalistic career he filed dispatches from all over the world and as a special correspondent covered pontiffs from the reigns of Pius XII and Pope XXIII and the global travels of Paul VI and successive popes.
Since 1994 he was a correspondent for ARD German television and the director of ARD's Rome office.
He often contributed to Italian newspapers, magazines, radio and television programmes, particularly on the theme of Italo-German relations, a subject which interested him since the 1950s.
He participated in numerous Italo-German conferences, and several times accompanied Italian President Sandro Pertini on trips to Germany.
A member of the 'Deutsch-Italienischer Freundeskreis' (Italo-German friends circle), he was a founding member of the Centro Italo-Tedesco Villa Vigoni on Lake Como, of which he was president, from 1994.
He took part in numerous conferences and lectured in journalism at the "pro deo" University in Rome, (now the Luiss.
 Kusch received wide recognition for his work as a journalist including the City of Rome Prize, the Alcide De Gasperi Prize, and the Castiglione di Sicilia Prize and was awarded several honours including the first class Cross of Merit of the German Federal Republic for his work on Italo-German relations in 1990. He was made a Commander of the order of merit of the Italian Republic in 1991.
He was a member of the 'Comin' (Committee of Information and Peace Initiatives) which, under the patronage of the then President of the Italian Republic Oscar Luigi Scalfaro, was dedicated to promoting initiatives for peace and European unification.
Kusch settled in a house with a panoramic view of Lake Bracciano north of Rome and would swim across the lake until he was well into his 70s. During a long illness in recent years he was often to be seen in the library of his beloved press club from where he continued to work for the welfare of members.
A funeral was arranged at the Holy Teutonic Cemetery in the Vatican Saturday Feb. 27.
Erich Kusch: Born Trieste Sept. 27, 1930. Died Feb. 22, 2010, at Wurzburg, Bavaria, at age 79. He is survived by his wife and five children.