Valentino for Gap snapped up in minutes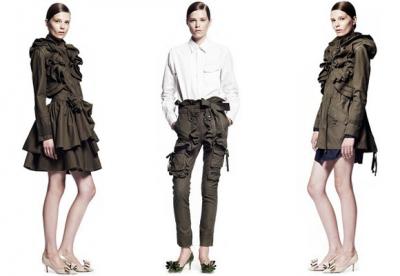 ROME–The eagerly anticipated collaboration between Roman couture house Valentino and American high street chain Gap was met with sell-out success across Europe this week.
The seven-piece collection was launched to celebrate the opening of Gap's first Italian store on the Corso Vittorio Emmanuele last week in Milan. Gap favourites such as the parka, hooded jumper and cargo pants were imbued with a luxury flavour by the Italian fashion house, who added voluminous ruffles to traditionally utilitarian pieces.
"We love mixing different cultures and we have been excited to mix Gap's timeless essentials with our roman culture of couture," the label's designers Maria Grazia Chiuri and Pier Paolo Piccioli explained. "It brings together the iconic world of Valentino and Gap's fashion staples, synthesising the current trend of combining luxury with basics."
Ironic then how fans of every-day luxury lined up outside stores in sub-zero temperatures in a desperate bid to own one of the seven pieces designed by the Italian designer. When the doors opened in Milan the shop was flooded with Valentino aficionados.
In London last Saturday it seems that shoppers were a little less restrained, all items were snapped up within twenty minutes.
But are these adoring fans of the Italian designer or simply Ebay opportunists earning some holiday crust? Many pieces have been listed on the website for almost thrice the price- a £119 parka coat was resold to a bidder who clearly cherishes their Saturday morning lie-ins for a profitable £279.
The success of the collaboration however cannot be blamed entirely on a few mercenary individuals. The collection has scored highly with fashion fans across the world, many of whom have praised the couture detailing on wardrobe basics.
The good news is that one last delivery has since been distributed to stores in Milan, Paris and London. The bad news? Judging by last week's response, you've probably already missed it.