Letter: Congrats on the paper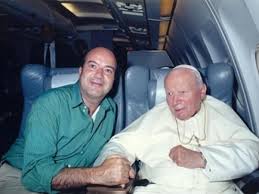 Reuter Correspondent Philip Pullella with Pope John Paul II
John, Philip, Desmond, et al, 
Just a word of congrats on your paper -- I have had not had 
the time to look at a whole issue until recently. Good
digging on the IFAD scandal. Re the sultry AFP reporter who
had a fling with Violante, I must be getting old cause in my 
younger days I would have noticed something like that. Best 
wishes for continued snooping and success.
Phil
* * * * * * * * * * * * * * * * * * * * * * * * * * * * * *
* * * * * * * * * Philip Pullella
Senior Correspondent (Capo Servizio) Italy and Vatican
Reuters
Thomson Reuters
Corso d'Italia, 39
00198, Rome, Italy