FAO media Czar "leaves IPS in ruins"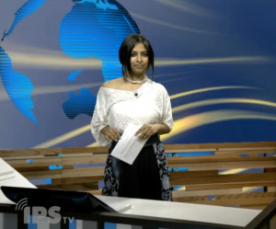 In crisis? IPSTV anchor Preethi Nallu
ROME – As Mario Lubetkin took over as FAO communications supremo, IPS association members accuse him of leaving the news agency and its tv project "in ruins."
  "Lubetkin is a case study in conflict of interest," a "group of IPS association members" said in a statement to Italian insider as Senor Lubetkin this week moved into his new office as dlrs 25,000 a month head of the Food and Agriculture Organisation's beleaguered Communications Division.
 "He became press officer of the Uruguayan embassy, a clear conflict with his role as GD of an independent news agency, just to have diplomatic license plates. He then became alternate Uruguayan delegate to FAO. He moved IPS from its location to FAO, which puts an independent news agency inside another structure, withholding its capacity of judgment on the host."
 There was no immediate comment from Senor Lubetkin over the charges.
 "Lubetkin leaves now for a D2 salary, which will enable him to keep his comfortable lifestyle," the statement continued. The members did not identify themselves by name. "Gone are his responsibilities for fundraising, reporting to governments which fund projects with IPS, and all the work of a General Director in a complex structure like IPS."
 "He leaves behind an agency in crisis. The contract with Italy has been lost, as it was essentially based on him taking responsibility. His main project, the creation of IPS TV, is over. The Brazilian investor withdrew, as he considered Lubetkin the responsible and accountable person, not an unknown new GD. Lubetkin was also a shareholder, and it is not certain that a new GD would gain by entering in a such an open conflict of interest to reassure the Brazilian investor."
 The IPS association members added that "Lubetkin leaves behind an IPS in ruins. Serious candidates have withdrawn, and now two IPS veterans, ambassador Lichem from Austria and Ramesh Jaura from IPS Germany, have been obliged to step in to take an interim job, until a solution is found."
 "Spinelli, the real power behind the throne inside IPS, has also left because his pal Lubetkin is not there, and he is unsure what his successor would do with him. He has conveniently taken to wear his hat of owner of an agro tourism resort in Sabina. His last move was to fire the two oldest members of the staff in Rome, the only ones who were not hired during Lubetkin's time, and kept an independent judgment."
 The IPS association members concluded that "Lubetkin is objectively responsible for the most serious crisis in IPS history. He leaves a total mess, he did not bother with a transition process (he went for holidays for a month and came back just 12 days before quitting IPS), and even if the yes people around him do not see that clearly, his actions, and not the campaign of Italian Insider, are responsible for this unprecedented crisis."
  "Had he not created the continuous string of untenable conflicts of interest and had he not left with such short notice - and without organizing any transition - a campaign by an online paper would have not brought IPS to its knees," the statement said.

Heads up: Lubetkin and FAO DG Graziano inaugurate IPS offices inside FAO