Murky manouvering over IPS succession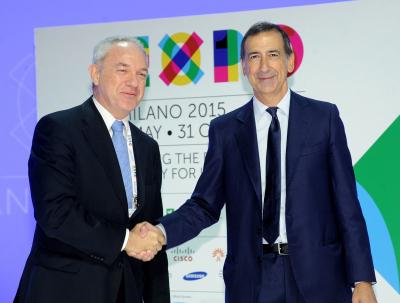 IPS has positioned itself to write about Expo Milano
ROME–Inter Press Service's quest for a new "director general" succeeding Mario Lubetkin at the radical organ raises questions over autocratic management under failed politician Giovanni Spinelli, media sources say.
 Senor Lubetkin signed a contract last month to take a dlrs 25,000 a month job as D2 head of communications at the UN Food and Agriculture Organisation after he and Signor Spinelli controversially moved IPS's newsroom and offices  into the sprawling FAO building by Rome's Circo Massimo last year. Donors already have raised questions about the unusual funnelling of funds by FAO to IPS when its president had an office in the same building and is now having a new office at FAO fitted out for him at considerable expense.
 Such dubious financial operations include a dlrs 250,000 deal paid for by the Italian Foreign Ministry to FAO to commission just 10 articles by IPS about the Milan Expo 2015 trade fair extravaganza. Given that Senor Lubotken rarely paid contributors more than dlrs 100 per article a deal to get as much as dlrs 25,000 per article from the Italian taxpayer raised eyebrows in media circles.
 The Farnesina denies that there is anything irregular in that deal though Italian officials claim the way it will be spent has not yet been approved definitively.
 Whatever the case Signor Spinelli in his role as secretary general of the IPS executive committee has come under fire from IPS insiders over his sacking of a number of long time loyal staff as well as his handling of the search for a successor to Senor Lubetkin at the helm of the troubled agency. One candidate was told he was on a short list of three for the grandiosely named Director General but that he would be interviewed only over the telephone.
 IPS sources previously indicated that Senor Lubetkin's countryman and old croney Sergio Jellinek, currently a press officer at the World Bank, would become the new IPS leader. But Senor Jellinek evidently had second thoughts about moving into his fellow Uruguayan's former position after much-vaunted Brazilian and Argentinian funding for the grandiose IPSTV servie dried up or proved illusory, meaning the tv service run out of FAO tv editing studios had to be suspended late last year, the sources say.
 Whoever grasps the nettle of running the once glorious spearhead of the New International Information Order will have to reckon with the Machiavellian manouvres of Signor Spinelli, who was once "mayor" of the central arrondissement of Rome and now runs a lucrative agroturismo farm vacation business in the rugged Sabine hills north of Rome in addition to his wizardry with IPS finances, which at one stage in the late 1990s were the subject of a full-scale Guardia di Finanza operation. No irregularities were found at the end of the probe, however.
 Moving IPS into the FAO building last year eliminated the remote possibility of IPS ever writing anything critical about FAO or its diminutive, dictatorial Brazilian director general, Jose Graziano Da Silva. However the move has the advantage of giving IPS accounts extra territorial status inside the United Nations, meaning that Italian police would find it hard to carry out another probe of the radical news agency's byzantine finances. 
   "Spinelli acts from behind, he is officially retired and runs a very lucrative  agrotourism business in Sabina," one source told Italian Insider.
 "But he is the real power behind the throne, and all contracts and negotiations are under his guidance. He is the one who de facto will select the new director, as secretary of the executive committee. He is not loved in IPS."     
Non combattant: Sergio Jellinek