FAO media chief's "fast track" hire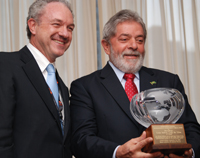 Mario Lubetkin (left) with Brazilian former president Lula
ROME–FAO watchers have urged a review of procedures used to appoint Mario Lubetkin as Communications chief at the UN agency, the latest in a series of unorthodox hirings in the FAO's media division.
 "What kind of CV did Lubetkin introduce to FAO to apply for a D2 job?" an IPS source asked. "He has no formal education beyond a couple of years in high school back in Uruguay. His IPS corporate profile (http://www.ips.org) says he is a professional journalist, international expert in communications and an academician."
  The source continued that "All his life he (Lubetkin) has worked for IPS, where he started in the early 80s, when his job was to classify and glue IPS newspaper clippings from around the world. From that he jumped to be correspondent in Montevideo in 1985. He has no training as journalist." "
 "But in the IPS site he says he joined IPS as a journalist attracted by its editorial policy."
  "IPS is well known for paying very low salaries. How come Lubetkin, whose working class family had no properties nor businesses, has now a penthouse in Rome, luxury apartments in Montevideo and Sao Paulo and a summer house in the exclusive resort of Punta del Este? How come Lubetkin has led a luxury lifestyle, flying first class, staying always at five stars hotels, while IPS' budget was being dwarfed and staff reduced year after year since he took over in 2002?"
  The source added that "Lubetkin's Spanish writing is amazingly poor. His English is even worse."
"A basic test in his native language would be due before he takes up his new post," the IPS source suggested.
 Meanwhile FAO sources said Senor Lubetkin did not undergo an interview for the dlrs 200,000 plus p.a. position, unlike other candidates, meaning his hiring was evidently another "shoe-in" like the rigged appointment of Juan José Toha, nephew of the Mayor of Santiago, Carolina Toha, as the FAO's Latin American communications officer.