World Bank's Jellinek to head IPS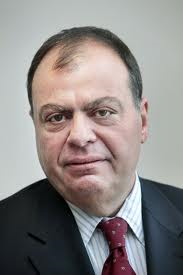 Jelly baby? World Bank Press officer Sergio Jellinek
ROME – World Bank flak Sergio Jellinek has been chosen to head the troubled IPS agency in Rome amid speculation IPSTV will be refinanced by Argentinian entrepreneur Jose Luis Manzano, media sources say.
  Senor Jellinek is expected to replace Mario Lubetkin, his countryman who this month signed a contract with the UN Food and Agriculture Organisation as head of the UN agency's nepotism-infested Communications Division. IPS recently moved out of its Rome offices to a new suite inside the FAO so the two old buddies will be able to coordinate expenditure of hundreds of thousands of dollars worth of Italian Foreign Ministry funds being funnelled into IPS via FAO ahead of the Expo Milano 2015 jamboree, FAO sources say.
  "A public call for applications for the IPS top job has been published, and a'Selection Committee' set by the IPS Board," a source from the third world news agency told Italian Insider. "It is an open secret that the appointee has already been chosen: Sergio Jellinek, a Uruguayan press officer with the World Bank and old pal of Lubetkin's."
  Speaking on condition he not be named, the IPS source asked: "Why would someone leave a high-ranking job with the World Bank to lead a failed outlet which is on the brink of closure? Maybe some fresh funds are to be made available?" IPSTV was set up with funding from a Brazilian businessman and failed politician Omar Perez, who became its "President."
  In November 2013, Perez left overnight and the project was halted. Now there is reliable information that a new funder has been identified: Josè Luis Manzano, an Argentinian wealthy businessman, owner of a media empire.
  Senor Manzano was the Interior minister of former President Carlos Menem and left Argentina to the US in the 90s when investigations about fraud and money laundering began. He is accused of diverting hundreds million dollars coming from an Italian fund set in the 80s to promote small and medium enterprises in Argentina.
  Senor Manzano will be the new "President" of IPSTV, media sources say.
  The source added "IPS is well known for paying very low salaries. How come Lubetkin, whose working class family had no properties nor businesses, has now a penthouse in Rome, luxury apartments in Montevideo and Sao Paulo and a summer house in the exclusive resort of Punta del Este? How come Lubetkin has led a luxury lifestyle, flying first class, staying always at five stars hotels, while IPS' budget was being dwarfed and staff reduced year after year since he took over in 2002?"
  The source also claimed that "Lubetkin has repeatedly been 'elected' DG by the IPS Association, which actually does not exist. His members are all IPS staffers, forced to join, and whose dues in Latin America (Lubetkin's power base) used to be paid from the regional budget (explicitly forbidden by statutes, thus his appointment was illegal). But now not even a farce of membership is kept. Where are the Association books?" the source asked.
 Questions to IPS by Italian Insider have gone unanswered.
Yesterday's man: Omar Resende Peres