Lubetkin new FAO Communications Czar
Mario Lubetkin (left) with Finnish officials celebrating 25 years of IPS
ROME–FAO has signed Mario Lubetkin, head of IPS news agency, as its Communications chief, climaxing the unusual rapport between the UN agency and the Italian-funded news agency, FAO sources say.
 Senor Lubetkin, an earnest Uruguayan, signed the contract for the dlrs 200,000 plus D2 job earlier this month though the UN Food and Agriculture Organisation has not yet announced the appointment while Senor Lubotken serves out his notice at IPS, where he is due to leave in February.
  Since the Brazilian FAO Director General Jose Graziano da Silva took office last year relations between FAO and IPS have become increasingly symbiotic, with IPS moving out of its longtstanding headquarters in downtown Rome and moving into spacious new offices at the FAO headquarters, including a brand new television editing suite.
 No IPS journalists are trained to use the state of the art editing suite but FAO staff have helped them to make web broadcasts, though it is understood that these have now been suspended.
 IPS was founded by Italian journalists from Bettino Craxi`s Socialist Party with the aim of providing a counterweight to the alleged bias against developing countries that the Socialists claimed is practised by western news agencies such as United Press International and Reuter.
 In recent years IPS largely has survived thanks to funding from the Italian Foreign Ministry as well as a sprinkling of clients and governments in Latin America.
 It is unclear how IPS could write objectively about the FAO now that it has its offices inside the UN agency. IPS has never been critical of the UN agency in its coverage but while it retained an independent headquarters was positioned to remain apparently objective potentially.
 Senor Lubotken takes over a position that previously was held by respected former Reuter journalist Nicholas Parsons. He will inherit a media department that has had its image dented by disclosures of the rigging of the appointment of its Latin American communications officer, Juan Jose Toha, to the exclusion of two highly qualified women.
 Insiders at the agency attribute the FAO`s embracing of IPS to a close friendship between Dr Graziano and a senior staff member at the radical news agency, the sources said.
 At the helm of IPS, Senor Lubetkin has worn another hat as alternate permanent representative of Uruguay to the UN agencies, a rare combination of journalism and diplomacy. It is unclear whether he will continue to represent Montevideo once he begins his new role at FAO, the sources said.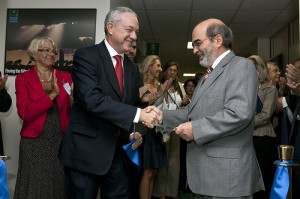 Partners -- Lubetkin and FAO DG Jose Graziano da Silva photo credit ©FAO/Giulio Napolitano.