FAO questioned rigged hiring of Tohà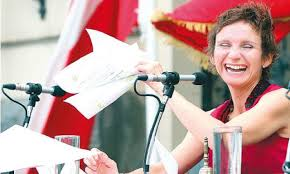 Outreach: Carolina Toha celebrates her election as Santiago mayor
ROME—FAO's staff selection committee questioned the rigged hiring of the Mayor of Santiago's nephew, Juan Tohà, to the agency's Latin American communications job but was overruled, FAO documents show.
 A memo dated July 23 sent on behalf of Janet Went, the secretary of the Professional Staff Selection Committee (PSCC)  to Mehdi Drissi, the FAO's Media Chief, raised questions about why he had ranked Senor Toha first to get the job ahead of two highly qualified women, Denise Martinez Breto of Venezuela and Margot Tedesco of France.
  A copy of the memo was made available to the Italian Insider by FAO sources on condition of anonymity.
 "The summary analysis appears to indicate that Ms Martinez Breto was ranked second solely becayse of her lack of experience in the RLC region," said the emailed memo sent by Cristian Zuccarini.
 "Please confirm whether this is the case or insert additional information to clarify her ranking."
 "In addition," it continued, "we suggest you provide a clearer rationale for ranking between the third candidate (mlle Tedesco) and the higher-ranked ones, as it appears that she mainly lacks knowledge of FAO's mandate and its communication priorities."
 The PSCC also asked M. Drissi to ask Senor Toha to provide "information regarding a gap in his work history between March 2010 and March 2011" and "information regarding an overlap in 2012 when he appeared to have performed two jobs at the same time in FAO RLC."
 It is not known how M.Drissi responded to assuage the PSCC's evident misgivings about the selection of Senor Tohà, nephew of the Mayor of Santiago and Socialist Party leader, Carolina Toha, however.