Archangelic vision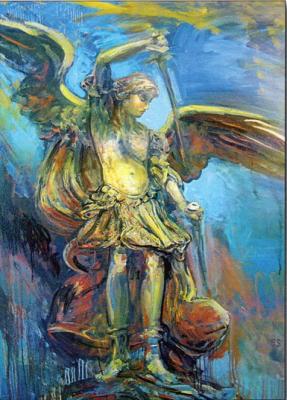 Vision of Saint Michael the Archangel above Castel Sant'Angelo, Rome, Cornelius Sullivan, oil, 36x48", 2011.
NAPLES, FLORIDA - The painting is a representation of the vision seen by Pope Gregory the Great and hundreds of pilgrims as they processed from the Basilica of Saint Mary Major through the streets of Rome toward Saint Peter's Basilica carrying an icon of the Virgin Mary, Holy Mary, Protectress of the Roman People, Santa Maria Solus Populi Romani. Saint Michael dressed in the armor of a Roman soldier, is returning his bloodied sword to the scabbard, signifying that the plague of A.D. 590 would end.
The painting is of the apparition but is based upon the monumental bronze sculpture that is atop Castel Sant'Angelo now.
A history of some apparitions of Saint Michael the Archangel at Castel Sant'Angelo from The History and Decoration of Pont S Angelo, Mark Weil, 1974, The Pennsylvania State University Press:
The miracle from which the Castel and Ponte S. Angelo received their names took place at the end of the sixth century. In the year 589 Rome was struck by a murderous plague. St. Gregory the Great, who was elected pope in 590, immediately set about alleviating the suffering of the people of the city. 
Having found that no medical precautions were sufficient to end the misery and death caused by the plague, Pope Gregory organized a procession in which the people of Rome marched from S. Maria Maggiore to St. Peter's, carrying the image of the Madonna thought to have been painted by St. Luke and singing hymns imploring the Madonna to intercede with Christ to end the plague. On approaching the Pons Aelius, Pope Gregory and his followers witness an apparition of the Archangel Michael standing atop the mausoleum and sheathing his bloody sword as a signal that the plague had ended.
The miraculous vision of the archangel was commemorated by a chapel dedicated to St. Michael built atop the mausoleum and later a statue of an angel placed atop the chapel. Pope Gregory's vision was never forgotten. It was confirmed by a similar miracle marking the end of the Black Death of 1348.
This article first appeared in the Saint Austin Review.