Dreamscapes at the National Gallery of Perugia
Federico Fellini, 'Disegno Donna e Omino'
PERUGIA  — The city of Perugia has staged some fine art exhibitions in recent years and is currently preparing another, from early 2011, which should be memorable: Luca Signorelli. The interests of the National Gallery of Perugia however, are not confined to the medieval and Renaissance artists who lived in Umbria and this is shown by its current exhibition: The Theatre of Dreams from Chagall to Fellini (Il Teatro dei Sogni).
This exhibition surveys how dreams have been handled by various artists in the 20th century. Both contemporary and international, the exhibition is  most relevant  to a city which aspires to become a European Capital of Culture shortly.
The one hundred items, displayed by Mateo Ferroni in this splendidly-mounted exhibition are distributed along a dark labyrinth while each piece is spotlit from high wood scaffolding.
Major European galleries and private collectors supplied the items which begin with paintings from late 19-early 20th century painters such as Max Klinger, Umberto Boccioni and Arnold Bocklin, whose famous piece Isle of the Dead aimed to actively induce dreams rather than using them to derive inspiration.
The majority of the paintings come from Marc Chagall, and are represented by six works: Giorgio de Chirico and his brother Alberto Savinio, Paul Delvaux, Max Ernst, Rene Magritte, André Breton, Joan Mirò, May Ray, Yves Tanguy, Fernando Botero. There is also an incision by Pablo Picasso on General Franco's ghastly Dream which foreshadows his renowned painting Guernica. The painting section concludes with other canvases, sculptures and videos by contemporaries such as Julian Schnable, Damien Hirst, David Salle, Jan Febre and Mimmo Paladino.
There are 30 sketches by Federico Fellini, mainly from his Book of Dreams as well as screenings of parts of his films The Clowns and The City of Women which have dream sequences.
These will be familiar to many but there are rarer projections: Luis Bunuel's surrealist shock films Le Chien Andalou and L'Age d'Or; the only film scripted by Samuel Beckett which, wait for it, is called Film, scenes from Alfred Hitchcock's Spellbound, for which Salvador Dali supplied the haunting cinematography; Sleep by Andy Warhol; a video of David Beckham sleeping and Quijote by Mimmo Paladino, which is inspired by Don Quixote. It takes several hours to see all of these films in their entirety.
The curator, Luca Beatrice claims that he has gathered works inspired by Sigmund Freud's The Interpretation of Dreams (1899). But, in fact, neither of the two key figures, Chagall and Fellini, were Freud fans. Chagall developed a poetic Russian Jewish-Biblical inspired tradition while Fellini rejected Freud for Jung. It was a Jungian psychologist who encouraged him to give greater attention to his dreams and to record them.
Beatrice suggests that Freud's work was liberating for artists. It may have been a reaction to the embalmed and repressive Viennese society but some contemporaries who wereequally critical of the society saw his explanation of dreams as damaging to creativity rather than fostering it. They claimed that his vision of reason struggling with anti-social and irrational impulses was a distortion of the relation between reason and fantasy.
Shakespeare's works suggest that he knew more about the unconscious than Freud. Beatrice recognises this in one of the many quotes about dreams which are used in the exhibition and which predates Freud by over three hundred years: "the eye of man hath not heard, the ear has not seen, nor hand is able to taste, his tongue to conceive, nor his heart to report what my dream was."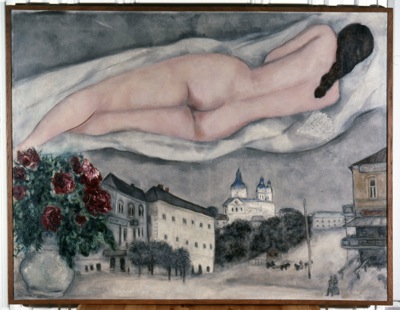 Marc Chagall, 'Le Nu au Dessus de Vitebsk' (1933)