Unification of Italy anniversary celebrated by Italian wine initiative: 'The Unity of Italy Bottle'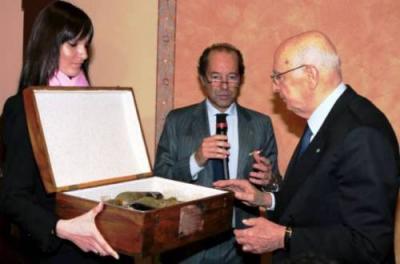 A project to celebrate the 150th anniversary of the unification of Italy, strengthening the national identity in Italy and providing international recognition of the excellence of Italian wine was presented at the Italian Embassy in Washington last Thursday.
The event was attended by Ambassador Giulio Terzi di Sant'Agate, who emphasised "the great cultural value of celebrations for the Unity of Italy". The President of VeronaFiere Ettore Riello was also present, along with Director Nicola Moscardo, Director General Giovanni Mantovani and numerous representatives of US Government.
The great producers of Italian wine were also represented by companies such as Antinori, Banfi, Zonin, Masi, Santa Margherita and Pio Cesare.
"VeronaFiere, like the unity of Italy, was founded in the 1800s and thereby embraces three centuries of the history of our Country," said President Ettore Riello during his welcome speech.
He continued: "The historical visit by the President of the Republic, Giorgio Napolitano, to the 44th edition of Vinitaly in April this year in Verona was the occasion for VeronaFiere to launch a far-reaching initiative for the celebrations of the 150th anniversary.
This project, named "The Unity of Italy Bottle", was warmly received by the President of the Republic who personally requested that it be expanded as far as possible through other approaches - within the scope of the 2011 edition of Vinitaly in Verona and abroad during the Vinitaly Tours to the main cities all over the world - that would also help at the same time to strengthen national identity and valorise through wine the other excellences that Italy boasts in many."
VeronaFiere's organisational machine has been in full swing for several months and involves all the regions and autonomous provinces in Italy as well as the Association of Oenologists and Wine Technicians: a super partes organism ensuring expertise, control, timing, quality and uncompromising rigour in all procedures.
"The Unity of Italy Bottle" will also offer Italian oenology - through the Vinitaly World Tour platform - important promotional status even in international markets.
Italy is the leading wine exporter in the world in terms of quantity, second in terms of value and fourth in terms of income generated by tourism. Italy ranks first out of 44 sites in the list of UNESCO World Heritage Sites and first in Europe in the classification of output.
Through this project, which will be illustrated in March next year, VeronaFiere also intends to consolidate the role of Vinitaly in the promotion of Made in Italy wines world-wide.
The exhibition, today one of the largest in the world, has more than 4,200 exhibitors and 152 thousand visitors is also present in the United States of America, Russia, India, China, Japan, Singapore, South Korea, Sweden and Brazil.
Through its leading shows VeronaFiere is an international platform for implementing the commercial and promotional policies of the institutions and authorities involved.
The organisation enjoys collaborating with the Ministry of Agricultural and Food Policies, the Foreign Ministry, the Ministry for Economic Development, the Ministry for the Economy and Finance and the Ministry for the Cultural Heritage, as well as with Embassies and Consulates, ICE and Buonitalia S.P.A