Italian Greenpeace activist granted bail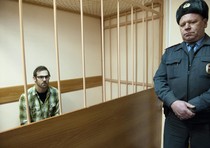 Cristian D'Alessandro sitting inside a Russian jail cell
MOSCOW - A St Petersburg court has granted bail to six members of the Arctic 30, including the 32-year-old Italian, Cristian D'Alessandro, who had been arrested in Russia in September.
Signor D'Alessandro is a biotechnologist from Naples who has been in Russian custody since he was arrested with 27 other activists and two journalists on Sept. 18. The group of Greenpeace activists were protesting oil drilling in the Arctic Ocean while the two journalists documented the events. The group of 30 was initially arrested on charges of piracy after several boarded a Gazprom oil platform, however the charges have since been downgraded to hooliganism.
The arrests had prompted much international attention after many claimed the Greenpeace ship was boarded illegally by Russian authorities while in international waters. However Russia has maintained that it acted lawfully.
A Russian court has now set bail for six of the activists at Dlrs 61,500. Greenpeace has announced that it will transfer the money as soon as possible, Russia Today reports.
Signor D'Alessandro had previously appealed for bail, but was rejected by a Murmansk court on Oct. 15.