Italian Navy destroyer sails to Helsinki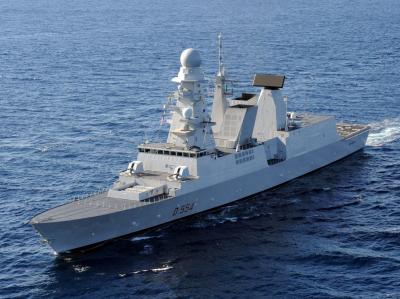 ROME  –  The Italian Navy destroyer and missile launcher, the Caio Duilio, will arrive in Helsinki for a public showcasing on Wednesday, following a seven day NATO "Steadfast Jazz 2013" drill.
The destroyer, led by its commander Fabio Agostini, has a crew of 240 people. Aside from the recent training activity that took place from Nov. 2 to 9, the ship has the task of representing the Sistema Italia and the excellence of its naval and technological products throughout the world. The ship is over 150 meters long and has a full load displacement exceeding 7,000 tonnes. The ship is the product of a high-tech program of cooperation between Italy and France called "Horizon" that launched in the Fincantieri shipyard in Riva Trigoso, Genoa in 2007. The program has led to a total of four units being constructed, all with strong air defence capabilities.
The Caio Duilio, headquartered at the Italian naval base of La Spezia, is one of the jewels of the European shipbuilding industry. The motto of the  ship is "Nomen Numen", translating to: "The name means power". Once it is anchored in the Melkinlaituri, Länsisatama harbour of the Finnish capital, the ship will remain there until Nov. 18. Meanwhile the Italian Navy unit will pay an official visit to Finland to promote the already excellent relations between Finland and Italy.
Visits aboard the ship will be available free of charge to the local public between the hours of 3:00 pm and 6:00 pm on the following days:
- Wednesday, November 13  
- Friday, November 15
- Sunday, November 17
Visits will also be available between the hours of 2:00 pm and 6:00 pm on Saturday, November 16.
A special visit has been reserved for the Italian community in Helsinki and will be held on Saturday, Nov. 16, between 10:00 am and 12:00 noon. The Italian embassy in Helsinki has also announced that a mass will be held on board the
Caio Duilio
on Sunday, Nov. 17 at 11:00 am. The mass will be open to the public, however limited seating is expected. Those interested in attending the mass are invited to email the embassy with a confirmation of attendance, including a full name and address, to:
ambasciata.helsinki@esteri.it
The embassy will send email confirmations to those who request seats, however seats will be given strictly based on the order in which requests arrived.