Djokovic crushes "malfunctioning" Nadal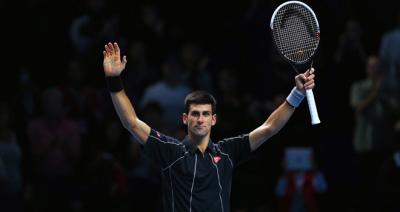 Novak Djokovic throws up his hands after he defends his title at the World Tour Finals
LONDON - Novak Djokovic beat Rafael Nadal 6-3, 6-4 to defend his title at the World Tour Finals and extend win streak to 22 matches. The Serb who lost his No. 1 to Nadal a month ago improved to 17 wins, 22 defeats against the Spaniard.
  It was the third year-end title for Djokovic after 2008 and 2012, and he denied Nadal one of the only major titles that he has never won. The Spaniard saved two match points over two games, finally sending a return just as Djokovic raised his hands in joyous celebration, with the Serb winning on the back of three breaks of serve and 21 winners after 95 minutes.
  The pair end 2013 with three wins each in their series. Djokovic lost the US Open final to Nadal before running off his unbeaten string of success with titles in Beijing, Shanghai, Paris and now London after beating Roger Federer for the title a year ago.
  "This is a great place to finish the year, in a city that nurtures the tennis tradition for a long time," said Djokovic. "This is probably the most competitive tournament that we have after grand slams in our sport. It's great to win this crown and finish this season in the best possible way with a title.
  "After the US Open final, I haven't lost a match. I'm trying to take a lot of positive energy out of this confidence and out of this run that I had."
  Djokovic was never truly in danger against a flat-footed Nadal, made to react instead of attack from the start of the one-way contest and occasionally flexing the suspect knees which kept him out of the sport for seven months in 2012-13.
  Djokovic won his tenth match in a row at the year-ender, after last losing a round-robin in 2011. The number two was playing his ninth final of the season and now owns seven titles in 2013 and 41 overall.
  Nadal, playing his second London final after losing in 2010 to Federer, ended 2013 with ten titles. "This has for sure been the most emotional season of my career," said Nadal. "A year ago I was injured and could not be here.
  "But to play the last match of the season in this stadium is fantastic. Novak played much better than me today and I had no chance."
  Djokovic became the seventh player to win the year-end championship at least three times, joining Federer (six titles), Ivan Lendl and Pete Sampras (five each), Ilie Nastase (four), and Boris Becker and McEnroe (three each).
  Djokovic came out firing, earning a break on the first service game of Nadal to immediately lead 2-1. The Serb looked to be motoring when his Spanish opponent came to life, breaking for 2-3 after Djokovic saved break points.
  But Djokovic broke again in the penultimate game for the set for 5-3 and served out a 6-3 winner to take early command in front of 17,500 fans.
  The Serb got ahead in the second against a malfunctioning Nadal. The Serb again broke in the third game, taking a 2-1 lead and stretched to 3-1 with a love game. Nadal stayed in touch 3-4, with Djokovic then forcing his opponent to drive a forehand low into the net for a 5-3 lead before closing out two games later.