Lampedusa traffickers arrested on rape charges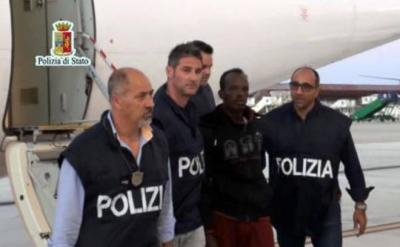 Police lead Mouhamud Elmi Muhidin off of a plane
ROME-Two foreign men have been arrested after survivors of the October 3 Lampedusa shipwreck identified them as operators in the trafficking ring and accused them of raping every female passenger aboard the boat, Italian police stated on Friday.
Mouhamud Elmi Muhidin, a 34-year-old from Somalia, was arrested by Italian police in Lampedusa after survivors in the island's migrant detention centre attempted to lynch him. Shortly after, 47-year-old Palestinian Attour Abdalmenem was also arrested. 
The survivors have accused the two men of taking part in the operations behind the disaster which claimed the lives of 366 people. The men are believed to have carried out the trafficking operation in association with a criminal gang that charged the migrants a minimum of Dlrs 3,000 for the voyage. The survivors have also claimed that the two men took part in raping the female passengers on the ship.
Corrado Empoli, the head of police in the Sicilian city of Agrigento, spoke in a press conference on Friday after the arrests were made. "It has emerged from the tales of the survivors of the October 3 wreck that all the women were raped by the members of the criminal organisation that ran the migrant trafficking," Signor Empoli stated. 
The two men now face possible charges of kidnapping, trafficking human beings, conspiracy to commit crimes aimed at favouring illegal immigration, and sexual violence.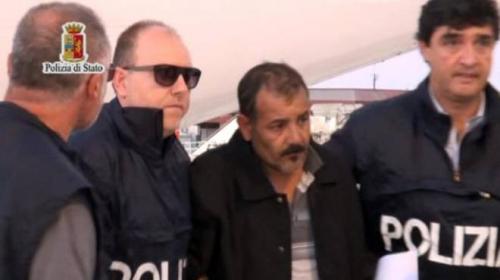 Police lead Attour Abdalmenem off of a plane