Vatican "saves FAO Opus staff jobs"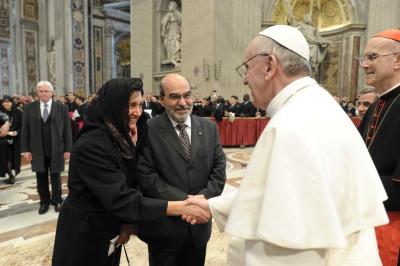 FAO director general Graziano da Silva and his wife at an audience with Pope Francis
ROME– Food and Agriculture Organisation staff with Vatican "protectors" or in secretive Opus Dei are favoured by the UN agency management among employees facing vicious job cuts, FAO watchers say.
 "In one confirmed case, a telephone call from the Vatican ensured that a professional staff member was placed in post at the same level in a country in the American continent," a well-informed senior staffer told Italian Insider.
  "During the redeployment of the staff whose posts have been abolished, most of those first that were placed in other posts were highly connected with Opus Dei and the Vatican," the staffer said, speaking on condition of anonymity.
  "Those who have not yet been redeployed or are waiting to be redeployed do not have any connections," the source added.
  There have been persistent reports in recent years of Opus Dei, a personal prelature of the Roman Catholic Church, actively recruiting professionals at FAO. Opus Dei strongly denies allegations that it is a sect though it was banned from recruiting members under 18 by the Archbishop of Westminster in London.
 Most of the staffers whose jobs have been saved in this way through what their colleagues call a "Godly gift" are Italians, the source added. Scores of jobs are being axed by FAO as it struggles to make budget savings of dlrs 37 million imposed by Western donors.
 Meanwhile Florentin "Dracula" Albu, the pisspoor director of FAO's troubled CIO or IT division that has borne the brunt of the cuts, still is holding back newly created posts and not welcoming back people whose posts have been abolished in the same division "contrary to calls by the Director General, Jose Graziano da Silva, to all directors to cooperate," another source told Insider.
 "How the Director of CIO can defy the DG's orders is a mystery," one veteran FAO watcher commented.
 jp