FAO jobs saved by Insider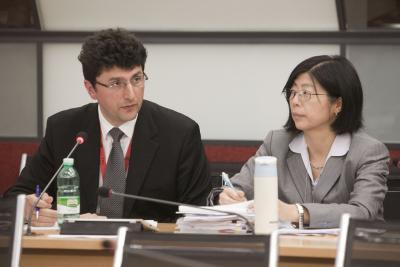 Florentine tactician? FAO CIO honcho Florentin Albu (left). ©FAO. Photo credit ©FAO/Alessandra Benedetti
ROME–FAO's CIO chief Florentin Albu, bowing to pressure, has agreed to re-deploy four axed staffers to new posts, following Italian Insider's disclosing his plans to dump them in violation of labour accords at the UN agency, FAO sources say.
The existence of the new jobs was "kept under wraps in extreme secrecy" at the hunger-fighting agency, a senior FAO source told the Insider, disclosing that "four or five new positions will be available at the P-2, P-3 level."
The source told Italian Insider that "he (Albu) is NOT releasing those positions to the Redeployment Task Force in order not to have to re-hire those people that he has already axed as not needed." FAO watchers describe the developments as "a major power game between the CIO Director and HR (Human Resources."
"He (Albu) has already refused to rehire a senior staff member on an opened post at the person's level, against the RTF/HR guidelines," the source said, adding that Mr Albu was using the budget costs to wage a "personal vendetta" in his department that has borne the brunt of the scores of cuts at the agency.
After the Italian Insider disclosed the macchiavellian machinations of the Balkan supremo, however, senior management evidently put pressure on Mr Albu to honour the guidelines and four staffers who would have been thrown on the street were advised they would be redeployed into the new posts.
"These people do not have any shame, they do anything for their career," a veteran FAO watcher commented on the abrupt volte-face. "but he (Albu) got caught with his hands in the candy ... and he was forced to fess up."
 Staffers were holding a second demonstration in the atrium of FAO headquarters Wednesday to protest the job cuts and DG Graziano tearing up the labour security terms in the FAO "manual."