8th FAO Hunger Run a success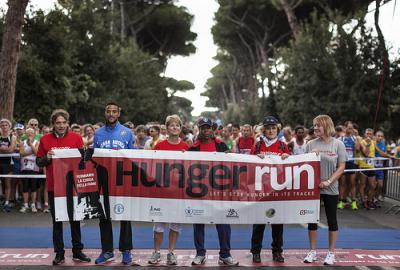 The Hunger Run started at 10am in front of FAO headquarters ©FAO/Annibale Greco
ROME-- Thousands of runners took to the streets last weekend to participate in Rome's 8th annual Hunger Run -The 10k competitive race and 5k run/walk are organized by the Food and Agriculture Organization to bring awareness to 842 million people worldwide who are suffering from chronic hunger.
Andrew Howe, Olympic athlete and honorary Hunger Run spokesperson expressed his enthusiasm for the cause. "I'm really happy to be here and to be able to help," he said. "It's great to see so many people coming out on a Sunday, even to walk. The most important thing is the cause."
Proceeds always go to rural families in need and this year the funds raised will be donated to an agricultural school in the Northern State of the Republic of Sudan. The Burgeg Agricultural School trains agricultural technicians in animal and crop production techniques and are now seeking to develop a poultry production training program that will facilitate better access to food in the wider community.
Proceeds from the 2012 run went to helping empower women farmers in Kenya.
The event that started in 2006 is getting bigger every year thanks to collaboration with The International Fund for Agricultural Development (IFAD), the UN World Food Program (WFP), Bioversity International, Gruppo Sportivo Bancari Romani and FAO Staff Coop among others. It was rebranded as the "Hunger Run" in 2012 to better explain its mission to eradicate world hunger and bring help to vulnerable communities.
"It's a great event," said Scott Grove, a member of FAO's communication team. "People also know their sign-up fee is going to have an impact." The run is also organized in twenty countries around the world.
The competitive 10k and non-competitive 5k both began at 10am at the Terme di Caracalla in front of FAO headquarters and looped around the Capitoline hill, past the Colisseum and ended in Caracalla Stadium. There was also an Athletic Village where booths offered ethnic foods, drinks, and goods.
Winner of the men's competitive 10K was Elias Embaye of LBM Sport club. Winner of the women's 10K was Annalisa Grabriele of Villa Pamphili club.