Berlusconi's Fininvest to pay €494 mil in damages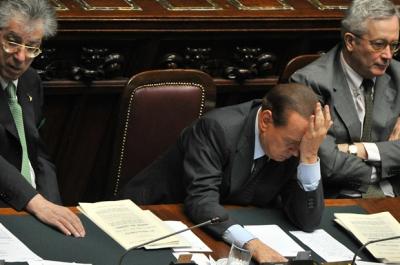 Tuesday's Fininvest fine came a month after Berlusconi's Mediaset was convicted of tax fraud
 ROME—One day before a Senate meeting that could end his career, Italy's top appeals court has ordered the family holding company of former prime minster Silvio Berlusconi to pay € 494m ($659m) in damages to Carlo De Benedetti's CIR firm in a long-running dispute.
 The case goes back to the battle between Berlusconi's Fininvest and his business rival De Benedetti's CIR holding, regarding the take-over of publisher Mondadori though the Berlusconi family has always denied the charges.
 The court's final decision Tuesday coincided with Berlusconi's announcement to postpone a highly anticipated video message which is now set to be released Wednesday before the Senate panel meeting that will decide whether or not the media magnate who was convicted of tax fraud last month, should be able to keep his seat in the Senate.
 The four year prison term issued last month by the supreme court over the Mediaset tax fraud case was commuted to one year of either house arrest or community service but still marks the first definitively guilty sentence Berlusconi has received in over 17 major trials in the last 20 years.
 The debate in Wednesday's senate meeting stems from article three of an anticorruption law passed by the Monti government in 2012 which states that anyone given a prison sentence greater than two years for fiscal crimes cannot run for election for 6 years. If that decision is confirmed by the immunity commission of the Senate, Berlusconi would be 83 years old before he can run for public office again.  
 If the court of appeals sentences him to a mere one year ban from public office in addition to one year of house arrest, his political career might be salvageable.
 Debate about what tomorrow's video will contain ranges from predictions that he will threaten to pull the support of his party, The People of Freedom (PdL), from the coalition with prime minister Enrico Letta and thereby topple the government to a more peaceable declaration of cooperation to simply a message to his party followers.