FAO, reneging on redeployment, threatens to fire whistleblowers
Bitter lemons? FAO Director General Graziano da Silva at a Rio street market. Photo credit: ©FAO/Giuseppe Bizzarri
ROME – FAO management is reneging on pledges to redeploy staff whose positions are being abolished, telling them are no funds available to keep them in the troubled UN agency, sources say. In another development a new Orwellian circular has cautioned that staff talking to the media about policies at the Rome-based famine fighting agency face being sacked.
 Last year the Director-General of FAO, Josè Graziano da Silva, said he would like to establish a new policy and relationship with staff "based on a permanent dialogue," in order to meet the challenges of change within the Organization. This would avoid the historical policy of 'fait accompli' and would allow to plan ahead. This dialogue and cooperation would facilitate the process of change that, however, has clear deadlines.
 According to the in house FAO magazine In Touch "it is the Director-General's will to redeploy those affected by these changes to similar positions within the Organization. This is why he has decided to freeze vacant posts (except those of extreme urgency), and which will not be encumbered until the redeployment process culminates in a satisfactory manner."
 Manoj Juneja, FAO's Deputy Director-General for operations, told In Touch a year ago that "We continued our consultations with Staff Representative Bodies, with very constructive dialogue in several meetings over the last few weeks. In this period I was asked to be the Director-General's representative for these discussions to improve the redeployment process. I was very pleased that, together with the staff representative colleagues, we were able to make real progress so quickly. In fact, we have two Redeployment Task Forces, one for professional staff and one for general service staff, which met on 21 May and resolved 19 of the 21 cases which were pending at the start of 2012."
 Juneja added that there would be further "redeployments." He said that "These adjustments reflect change under way at FAO and a reallocation of resources. Clearly, in line with the expectations of Members, savings need to be achieved in this transformation, and the proposals before the Council also include abolishment of 22 encumbered posts, located in corporate services, information technology, and the office of corporate communications and external relations. The Organization is committed to finding alternative positions for all colleagues whose posts are abolished, based on skills and competencies."
  "At this point in time, management is taking steps to plan ahead to identify possible matches of staff whose posts have been abolished against available vacant posts within the Organization. These redeployment plans will then be evaluated by the Redeployment Task Forces to propose solutions and concerned staff will be promptly informed of the outcome.
  In practise, however ,staff now are having posts abolished and not being offered new positions, FAO sources say. Some have been called in to receive their cards by divisional directors and Ali Basharat, a retiree who is one of the constellation of advisors who Dr Graziano has hired since taking office last year.
"Upon questioning them, I was told that I should not hope for redeployment as funding is not available," one staffer said. "This is totally against the procedures described in the manual and agreed upon by the DG last year."
 In another development managers this month issued a new circular threatening tough disciplinary measures including dismissal against any staff member who discloses internal machinations of the agency to outside organisations such as Italian Insider, the sources said.
 FAO Chief Press officer Enrique Yeves was reported to be on leave when contacted by Italian Insider to comment on the allegations.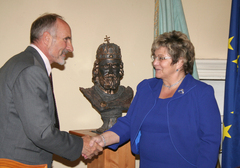 FAO Deputy Director General for Operations Manoj Juneja